Living in California certainly has a bounty of benefits: the weather, the beach, the entertainment…but it's not without its negatives. The two biggest bummers: Insane taxes and a complete and utter lack of Whataburger.
I'll save my detailed Whataburger rave for another time (it's lengthy), and I won't even entertain the In-N-Out vs. Whataburger silly debate ('cause that's like arguing what's the better car: a Yugo or a Benz). I'll just explain to my friends who have never tried a Whataburger, that it is the best fast food burger, period; boasting a great patty, always crispy veggies, and that perfectly and lightly toasted and buttered bun. In fact, I'd even choose a Whataburger with cheese over one of those fancy, giant steakhouse burgers anytime.
Anyway, I'm in California now, where the nearest Whataburger is a seven-hour drive to Tucson. Yeah, just a little out of the way for those random, often late night Whataburger cravings. (Don't think I haven't contemplated driving to Tucson just for one!)
So when I am visiting Arizona, Texas (birthplace of the WB) or any other state with a Whataburger, best believe I will always, always make s stop. Or multiple stops.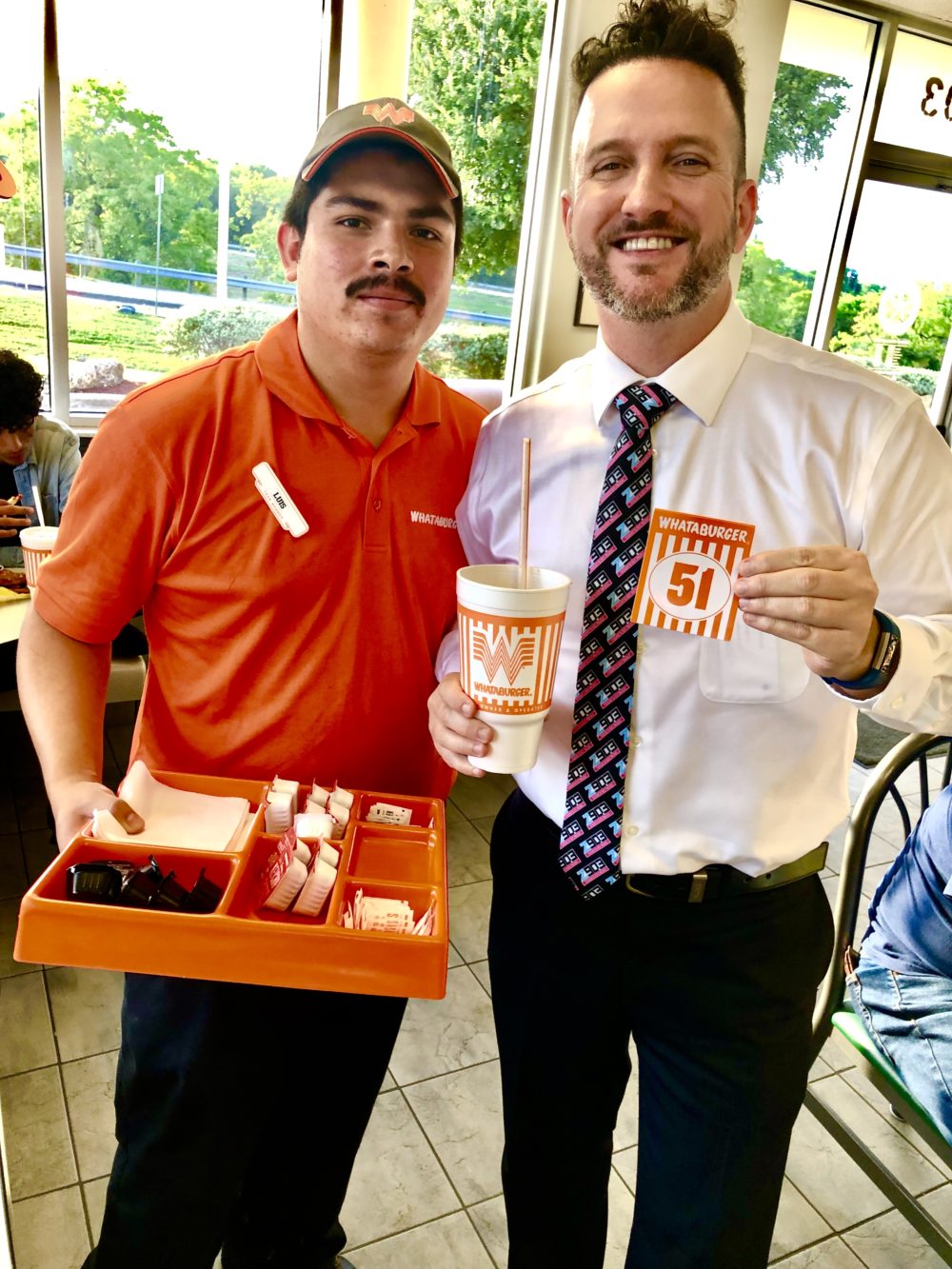 Houston's George Bush Intercontinental Airport is one of my favorite connections, because even if I'm on the way to a Whataburger-less state, I can always enjoy my favorite hamburger during my layover. I've almost missed flights because of this addiction and sometimes I've even bypassed a non-stop flight for a flight with a connection in Houston, just so I can get my Whataburger fix.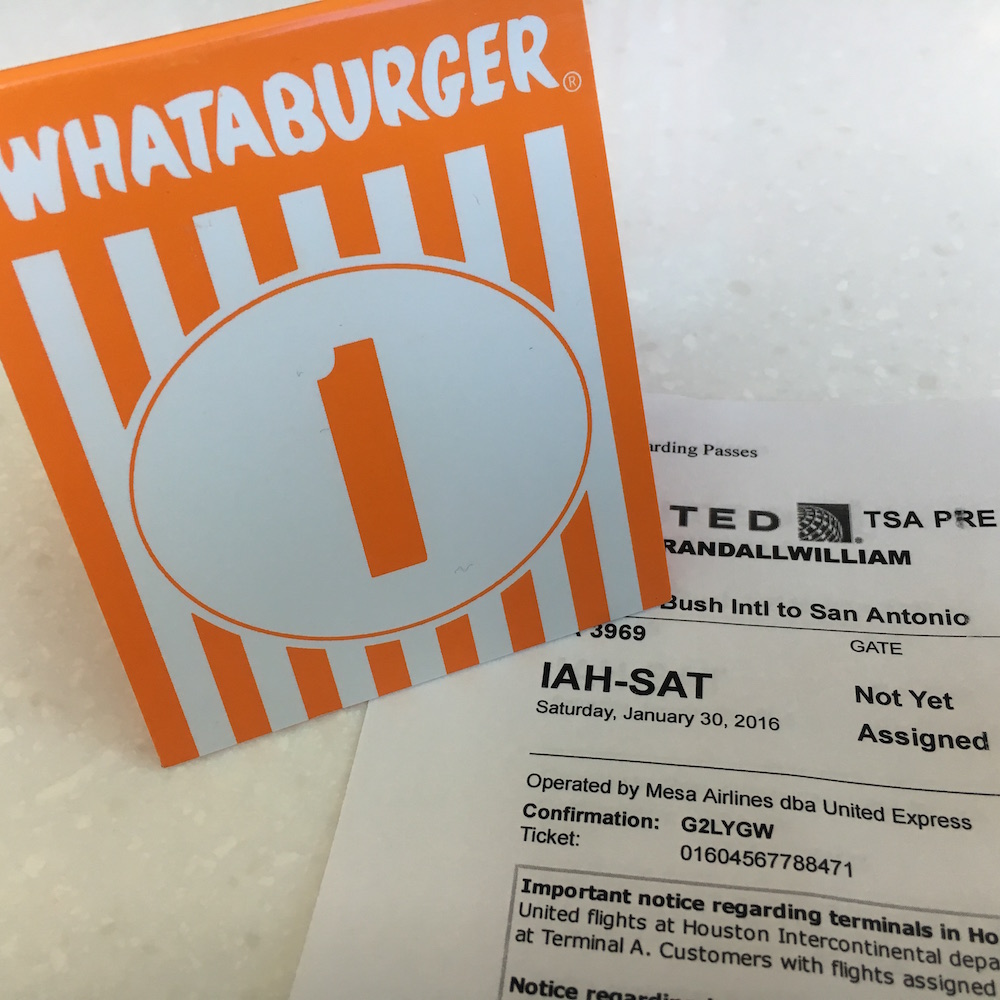 One time (at band camp), before the Houston Airport Whataburger ever even existed, I left the airport to take a cab to a nearby Whataburger during my layover. I couldn't stand the thought of being in Texas for three hours and not having one!
So why in the world doesn't DFW (Dallas Ft. Worth International Airport) host a Whataburger??? You think it would be a natural for one of the world's biggest airports, located in Texas, right? Thankfully, the hamburger gods heard my prayers and are finally bringing a Whataburger to DFW!
I only found out about it today on my DFW layover. As I do every time I'm at DFW, I do an online search for "Whataburger DFW," which usually comes up empty, but I always check "just in case." I literally cried out loud today, when this time, my Google search brought up news of the new Whataburger at DFW. People stared at me as I blurted out a hearty "Hell yeah!"
Sadly, the reports I pulled up online didn't give a specific date, other than "July," and today is June 29th. Drat! But that's okay…I don't mind waiting a little longer. Just knowing that there will eventually be a Whataburger at DFW warmed my soul.
I was almost to my D gate when I turned around. I had to stop by…I had to see it. Even though it wasn't open, I couldn't leave Dallas without seeing something. So it was back on the SkyLink and over to Terminal E to see if could scope out this new Whataburger in progress.
Like most guys, I refused to ask for directions and spent about 40 minutes wandering aimlessly around Terminal E, looking for some kind of Whataburger storefront "under construction." Didn't see a darn thing.
I finally asked an airport employee who showed me the way to the special Terminal E "satellite" offshoot, and I was on my way!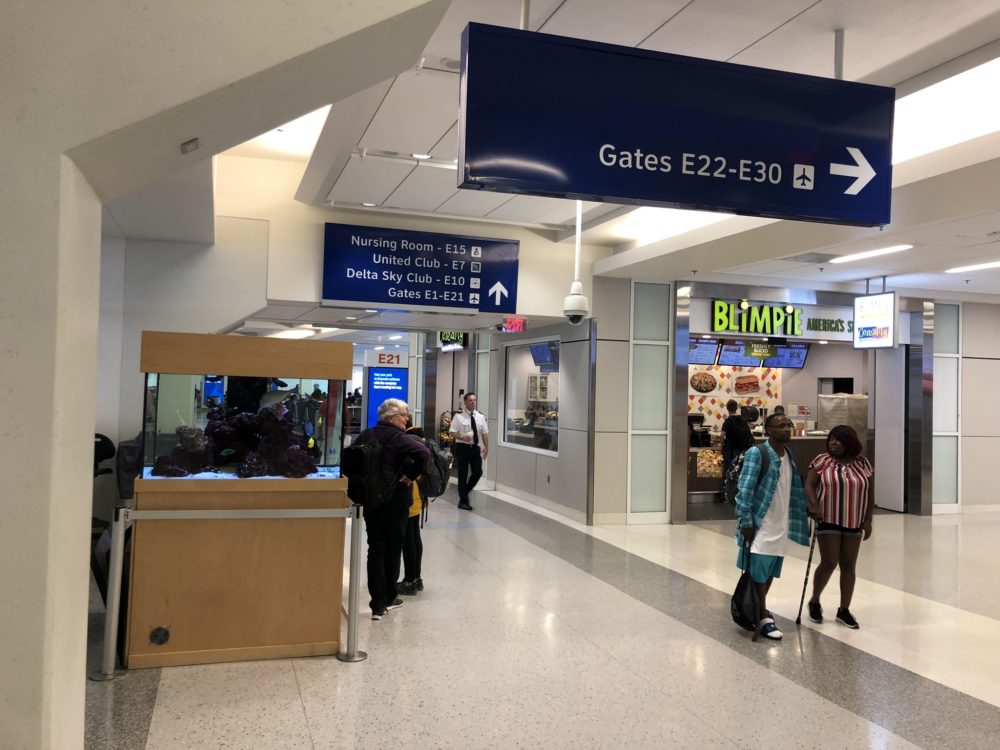 It was down some escalators and then across a very long hall, I assume under the runway. Then back up some escalators. Upon ascending into the mini-terminal, I immediately saw a cordoned off storefront that I suspected might be the new Whataburger. The man at the nearby Starbucks confirmed it: it was in fact the new Whataburger. I was sooooo close…but Phooey! It was completely hidden–very well–by tall dividers, with not so much as even a crack to peek through! I was afraid my lengthy and out-of-the-way trip to Terminal E had been in vain. I wasn't expecting a special "coming soon" stand with free hamburgers, but I at least wanted to see what the new storefront looked like, take a selfie in front of it, etc. Man, I couldn't just leave now, I was so close!
So when traffic died down, I looked around and when I saw that there were no airport employees in sight, I quickly moved one of the dividers to slip inside. I imagined getting hauled off by airport police for a security breach, and missing my flight, all because I wanted to see a fast food logo, but it was worth the risk. But I was foiled again! Once inside the dividers, I was immediately met with a giant wall of drywall. I heard activity going on behind it, but I'd hit a complete brick (or drywall) wall. There was no way in and no signs of anything "orange." Just a big, menacing wall.
Still determined to see a Whata-
something
, I walked around the corner to look for any other access point. Sure enough, there was a door…and it was only open for about five seconds. But inside, I saw it: a big, warm, lighted, glowing "Whataburger" sign that called me in like a siren to a sailor. I quickly snapped a picture and caught eye contact with one of the workers inside, looking lovingly into his eyes like I'd just found my long lost brother. I waved hello and told him how excited I was to see a Whataburger here! "When will it open," I quickly called out with expert timing. "July 2nd," he answered, just before the door slammed shut.  And as quickly as it happened, it was over. I was back in the busy, airport hallway, back to reality and in the middle of the giant school of fish that were the DFW commuters, like nothing happened.
Was it all a dream?