If you've done any traveling throughout Africa, you know that obtaining visas for many of the continent's countries can be a hassle. And while eVisas are finally starting to be slowly rolled out (like for Uganda, Kenya, etc.), the old method of actually having to send your passport and documents into an embassy for processing is still the most common for many African nations.
Many countries' embassy/consulate websites have clear instructions on how to apply, with downloadable applications, etc. But there are a few countries that don't. Dead links, websites that don't work, and even worse, while searching for Djibouti's official foreign embassy website, Google led me to a couple sites that were plagued with malware and viruses. You also have to be careful for another whole set of problems: the FAKE eVisa websites that exist online, designed to steal your money (or worse) and give you a fake piece of paper that will do you no good when you arrive.
And while at the time of this publication, online instructions for obtaining your Mozambique visa aren't readily available, I'm happy to share with you the easy, fast and friendly process that I personally went through in order to obtain my visa. I actually found this info on a TripAdvisor thread, and I was really happy it worked out. I'm happy to say that this method for obtaining a Mozambique tourist visa worked 100%! Note that I applied for and received my visa in April of 2018. Always check with the embassy for updates, as things can change.
Here are the steps I took to apply for and obtain my Mozambique tourist visa:
1) Email the embassy at receptionmoz@gmail.com and request an application for your visa. Make sure to include your travel dates, citizenship and what kind of visa you're asking for. In my case, I called them first (212-644-6800). They picked up right away, were very friendly, and asked me to email them my information. I did–to the address I just mentioned–and within five minutes they'd responded with the application and easy to understand instructions.
2) For your information, here are the instructions they emailed me. Keep in mind, this post me out-of-date by the time you are reading this, so it's important you get the latest instructions from them when you're ready. This is purely informational, so you know the instructions I received in April of 2018:
*****************
Mozambique Mission to the United Nations
420 E 50th St.
New York, NY 10022
mozambique@un.int • receptionmoz@gmail.com
APPLYING FOR VISA TO MOZAMBIQUE
Visa Service Hours: (MONDAY TO THURSDAY)
Submission Time: 10:30 am – 1:00 pm
Pick-Up Time: 3:00 – 5:00 pm
ALL NATIONALITIES traveling to Mozambique need to obtain an entry visa before arrival:
(Exceptions: Botswana, Malawi, Mauritius, South Africa, Swaziland, Tanzania, Zambia, Zimbabwe
for no more than 30 days and not for residence or working purposes.)
Applicants should comply with the following requirements:

a)    Original passport with six months minimum validity and must have at least 1 blank page for the visa. Amendment pages are excluded. For foreigners residing in U.S.A.: a copy of the residence permit/visa.

b)    Photocopy of the passport bio page.

c)    Fill in the visa application form properly. It is very important that you provide all the information required, including the name and address of your place of stay in Mozambique. Please be advised that lack of information may result in delay of your application. Additional documents may be required.

d)    Two passport size photos (must be in color against a white background and taken within the last 6 months).

e)    Applicants must have a return flight reservation (a copy should be submitted) and adequate funds for the duration of their stay in Mozambique.

f)     For Tourist Visas, a document to confirm the applicant's address during his/her time in Mozambique. A copy of hotel reservation.

g)    For Business Visas, a business letter of invitation from the company in Mozambique – explaining the reasons of the trip and being responsible for the stay in Mozambique.

h)    For family and friends Visiting Visas, a term of responsibility passed by the person to be visited in Mozambique and recognized by the notary, if a foreigner, also attach the copy of DIRE.

i)     For Diplomatic, Service/Official passports and Laissez-Passer (No Fee), a Note Verbal from the employer of the applicant.

j)     Visa fee must be in money order only in US Dollars, payable to Mozambique Mission. (Please note that visa fees are non-refundable.)
3 day processing
Single Entry Visa: $160 USD (max. 30 days within a 60 day period)
Multiple Entry Visa: $180 USD (max. 30 days within a 60 day period)
Multiple Entry Visa: $ 210 USD (max. 30 days within a 90 day period)
Urgent rates
24 hour or next day: $60 USD
Same day: $80 USD
k)    Applications submitted by mail which will not be retrieved directly at the Mission, please include a prepaid labeled return envelope preferably with a tracking number.
l)     If the applicant has been in a Yellow Fever endemic country, the applicant must bring Yellow Fever Certificate when traveling.
DEFINITIONS
Single Entry Visa allows one entry. The length of stay can range from a minimum of 1 day to one month, renewable in Mozambique, provided that the Visa is still valid at the moment of application. Visas must be used within two months from the emission date.
Multiple Entry Visa allows more than one entry. The maximum length of stay for each entry is 30 days. Visas must be used within two months from the emission date.
*****************
3) Download the application that comes with the email. Follow the instructions in the email exactly. Triple check you've filled out the application correctly (used the right date format, etc.) and that you've included everything the embassy has asked for. You'll need proof of accommodations in Mozambique. You can find a ton of rooms at great prices HERE. Make sure to take note of the tracking number on the prepaid envelope that you'll include with your package.
4) Keep an eye on your packages, both to and from the embassy. You should send them your documents in a trackable envelope, and the prepaid envelope you include for return of your documents should have a tracking number as well. Always know where your passport is! The processing time on the instructions says three days (not including shipping times), and that's exactly what it was for me!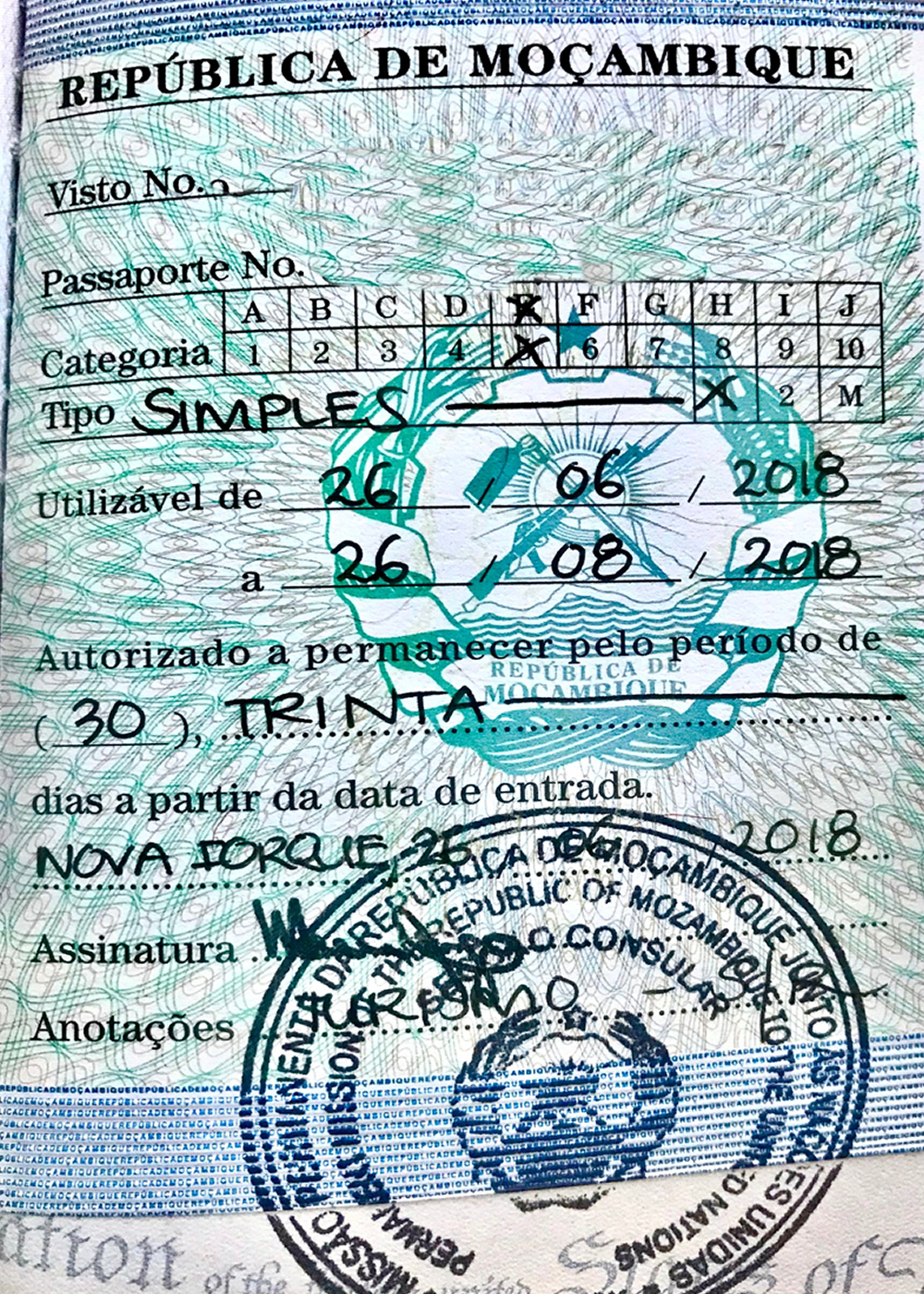 5) Have a GREAT trip to Mozambique!!!
In closing: Friendly and responsive folks at the Mozambique mission in New York and speedy service. I thank them, and recommend them!
<<< RELATED ARTICLE: TRAVELLING INTERNATIONALLY – WILL YOU NEED A VISA???

>>>