I've been serious about travel (like, really serious) for a little over a decade. When people find out how much I travel and how many places I've been to (162 countries to date), the most common question/assumption that follows, is: You must travel for work! Defeated, I tell them, "Nah, just for fun (womp-womp)," adding, "Oh how I wish I could figure out a way to make travel my business." Well this week–at least for one trip–that dream was realized,
>>> RELATED: "WHERE I'VE BEEN" – LIST OF COUNTRIES & TERRITORIES SEEN
My full-time "job" is a radio personality, both nationally (syndicated in 200+ markets) and locally, for a radio station in San Diego, California (Shout out to Magic 92.5!) So when the station asked me if I'd be interested in doing endorsements (commercials) for the city of La Paz, Mexico, of course I said, Yes! When they informed me they'd need to actually send me to La Paz for a few days to experience what I'd be talking about on the radio, I think my immediate response was a resounding "HELL-to-the-YES!" Traveling professionally is something I've long aspired to do, and now it was actually happening!
I should disclose that almost all of the travel, accommodations, excursions, tours and meals on this trip were provided to me by La Paz's tourism council. I'd like to first thank them for having me and showing me an amazing time. They really rolled out the red carpet.
Day One
The first takeaway from this trip was just how easy it was to get there. If I had only one sentence to persuade someone to choose La Paz, it would be that, "You are only but a two-hour flight from waters as clear as the Caribbean!" That was probably the biggest surprise to me in La Paz, as I gazed out on that beautiful turquoise water.
And quick! I live in San Diego, so my favorite way to travel south is by using a new pedestrian bridge that takes you from San Diego directly into the Tijuana Airport. The Tijuana International Airport has been a travel secret of San Diegans for years – offering a kajillion direct flights to so many destinations, and even more one-stop flights through Mexico City. But now, it's even easier, since you can literally walk from San Diego, down a hallway that dumps you smack dab in the middle of the airport in Mexico…brilliant! I've used the Cross Border Xpress at least a dozen times over the past three years, taking trips to Mexico City, Guadalajara and even Buenos Aires and Guatemala (via Mexico City). There's even a direct flight to China! The CBX is the definition of a "travel hack."
The passengers of Volaris flight 580 received a treat that morning, as the pilot did a figure eight, circling around that beautiful bay. It was a rare detour that I was told was not the normal flight path. It was a glorious morning in La Paz!
Let's Get the Party Started
Upon arrival, I met Iván from Go La Paz, who'd be my tour guide, driver, culinary consultant, geography and culture professor and all-around La Paz expert for the next five days. We established a great connection before we even left the airport's property, the moment we found out about each others love for world travel. We'd have many conversations about La Paz, and the whole world, over the next few days.
Our first stop was breakfast at Tacos Los Claros where we had delicious fish tacos for breakfast. Yup, breakfast! Iván explained how eating fish in the morning is tradition in La Paz – a community born and built by fishermen. It goes back to before refrigeration existed – you had to eat the fish in the morning, or by afternoon it would go bad! Though fridges and freezers are common today, the tradition of fish for breakfast in La Paz lives on. I hadn't even finished my first shrimp taco and I was already learning so much!
Relax (Don't Do It)
Next, it was over to the Costa Baja Resort and Spa, one of the many places I'd be staying on this trip (just about a new place every night!) First up on the agenda was a massage treatment from their Espiritu Spa, which hands down, was one the best massages I've had in my life – puts the Chinas back in San Diego to shame. I probably fell asleep at least five times during my treatment, only to be awakened by my own embarrassing snorts. It was magical. As their website reads:
Our mystical reiki-holistic concept is a fusion of aromatherapy with the use of local herbs, Bach flowers, Reiki and Chakras balance. We combine ancient techniques with artisan elixirs specially designed for the needs of our clients.
It was heaven and I hated getting off the table and leaving that spa! Pure bliss.
But it was time to eat! We headed over to The Beach Club Blue by Puerta Cortés where the hotel's Director of Sales, Samuel Rodriguez, joined us for lunch. The only thing more delicious than the octopus ceviche I devoured, were those stunning views of the water. The dark blue-tiled infinity pool beautifully contrasted against a line of white sand and then that gorgeous turquoise water. This was my first look at the water here and I nearly fell over. It was absolutely spectacular and rivals the Florida Keys or dare I say the Caribbean. I kept reminding myself that this is so close to home!
Ridin' Dirty
I sure could've gone for a napper, but we had business to take care of! Next, it was over to Baja Rent for an ATV adventure on the dunes. I'd never gone off-roading, so this was quite an adventure for me! Though I started off a little timid (Okay, I'll say it: driving like a grandpa!), by the end of the tour I was all in, the foot to floor and rounding those corners like a Nascar driver. Maybe I wasn't that good, but it got easier and more fun with every minute that passed. One of the best parts was really having to "punch it" to make it up a giant and very steep hill. It was like a never ending roller coaster, but no tracks. The sea, and sand and speed altogether…what a ride!
Afternoon Delight
Back at Costa Baja, I enjoyed some relaxation in my room which had its own balcony with sea views. I enjoyed all the extra special touches, including some really nice natural soaps infused with oats and all sorts of other fancy ingredients. I loved the old Mexican película (movie) poster in the bathroom. Before sundown, I headed to the pool to soak my rattled bones. The water was perfect and I enjoyed gazing out to the sea while asking myself if this was all a dream.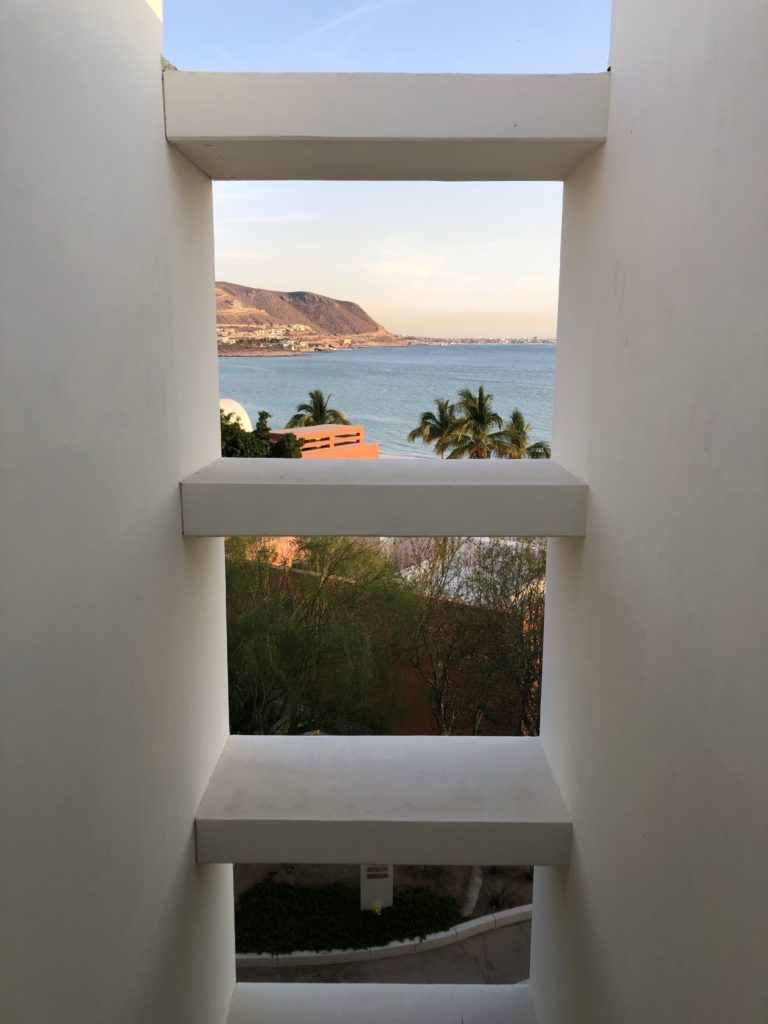 Don't Mess with my Flan
I closed the night out with a spectacular meal at Steinbeck's Restaurant, on premises. My plates included a yummy al dente pasta and special fish (totoaba) plate on top of pureed potatoes. I've never been a huge fan of flan, but after stealing a piece of Iván's, realized I should've ordered my own. I've never tasted flan so flavorful and with this consistency. (Usually it's wet and soggy). It was flan-tastic! With blueberries and strawberries on top, it's a must try. I'm sorry I ever spoke bad about flan in the past. I headed back to the room and don't remember having sleep this good in months (or years.) What a phenomenal first day in La Paz.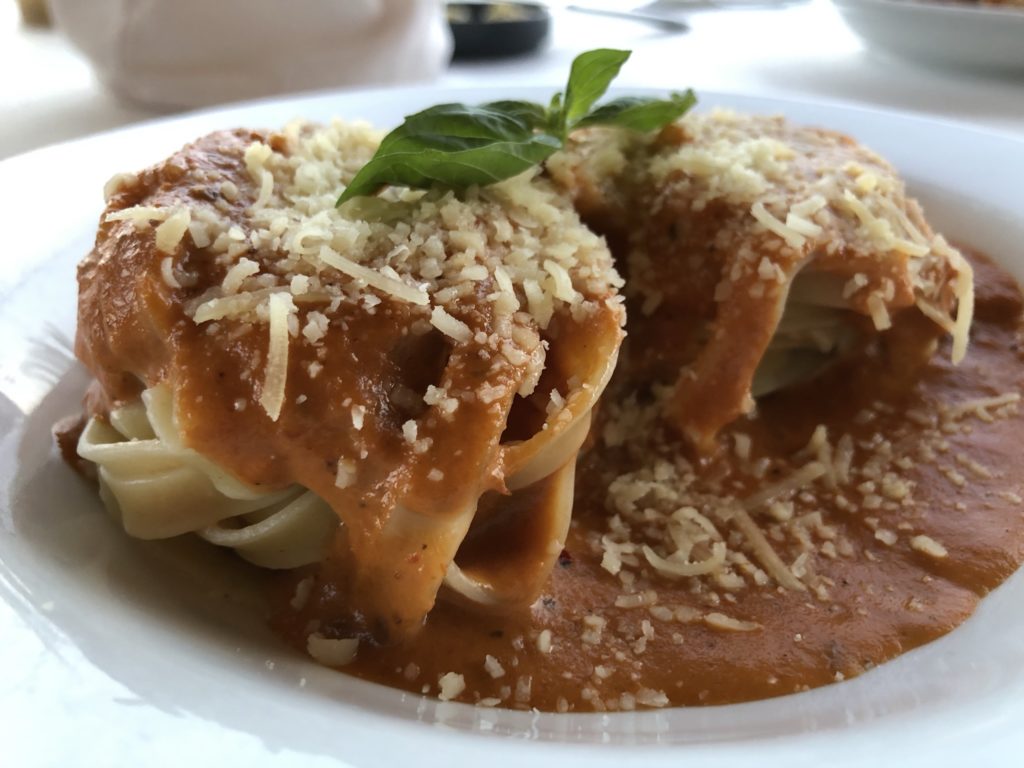 Day Two
It was up and at 'em, in the truck, and down the carretera to the town of Todos Santos, but not before stopping at the famous La Garita for machaca burritos for breakfast. They were fabuloso, especially the fresh and piping hot tortillas. The restaurant has a little petting zoo on-site and I enjoyed saying good morning to the chickens, donkeys, cows and goats. But playtime was soon over and it was time for some serious action…I was going to surf school.
Surfin' Safari
I've been boogie-boarding since the age of 9 and love it – I've always wanted to learn how to really surf, I just never had the cojones to actually do it. So when the class was offered to me during the planning of this trip, there was no way I was going to turn it down!
Mario Surf School is located on Playa Cerritos, part of a bay on the Pacific side (as opposed to the Sea of Cortez, where I was last night). As soon as my instructor Diego began to give me those initial lessons with the board on the sand, it was obvious that surfing would be a little "challenging" for me. Apparently, at least a small degree of strength, flexibility and coordination are required, none of which I possess. But there was no turning back. As we headed towards the water, I dreaded disappointing Iván with the fact that there'd probably be no way I was actually getting up on that board. I'd just hoped I wouldn't be too much of an embarrassment to my host as I envisioned leaving the school in defeat.
To my surprise, I did it. I actually did it! It took me a couple tries to not totally suck, but Diego had the patience of a saint. With each try (some successful, some not), Diego offered me one new tip/correction, until I was catching almost every wave, albeit small ones. The feeling of actually being taken to shore on the board, while standing, was just thrilling. These may have been small waves, but this was a big deal for me. The one thing that I noticed was how depleted my energy was from consistently paddling out. A reminder that I really need to get back in the gym soon…or do some pushups, or something, ya' girlie-man! But wow, what a rush!
I'd worked up quite an appetite out there on the waves, so shrimp tacos and beverages at Barracuda Cantina hit the spot. My favorite drink all year was the Sexi-Mexi (virgin), which included ice cold passion fruit juice, an orange slice and mint leaves. It was sooooo good, I had a second; and could've had a third or forth. Needless to say, the taco was perfection. You may have seen Barracuda Cantina on Netflix's Taco Chronicles.
House(s) on the Hill
Back over to Todos Santos, Iván turned off the main street and began driving up a steep, winding, dirt road.
"Trust me, " he reassured me. "Just wait. You're gonna love it."
And love it, I did. Los Colibrís Casitas are a group of very special little houses (casitas) tucked away in the hills of Todos Santos with sweeping views of the palms and water below. Owners Sergio and Bryan take such pride in this special place, which they call their home. Renata, the property manager, gave me a very warm welcome and tour, but my favorite staff members had to be the five doggies – they are really the ones that run the place. The grounds were just magical, as were the rooms. One of my favorite things were the roof gardens. I could stay here a month…or forever!
Let's Get Cookin'
After relaxing for a bit and enjoying that beautiful, big shower, it was up to the cocina to meet Chef Iker and take cooking lessons. This was one of the most fun classes I've ever taken, as Iker throws out the book of exact time quantities, measurements and other boring "numbers," to attach fun analogies and memorable stories to almost every step along the way, including incorporating his playlist of songs that fit certain tasks. Spoiler alert: He really loves K.C. and the Sunshine Band!
I learned how to make tortilla chips (without all the grease), killer guacamole, and our main course was rajas con crema. It was delicious! Oh, and incredible margaritas using regional damiana liqueur. I probably won't remember 90% of what I was taught, but will remember some really cool shortcuts and even safer ways to "slice and dice" – some awesome tricks, that also may save a finger!
I dined on the patio with Iván as the sun dropped below the water. That night I slept with the doors open as the waves put me to bed. It was a great day in so many ways.
Day Three
I started the day with Chef Iker's special huevos divorciados: fried eggs with one side red and the other, green salsa. We said our goodbyes and it was back on the road with Iván to our next destination. It was hard to say goodbye to that gorgeous little compound on the hill, but even harder to bid adieu to my new doggie friends – especially Guayaba. Give her some love for me when you visit please. She was the sweetest.
All of the Saints
Next, Iván served me up with a walking tour of Todos Santos which was super cool. The church, the main square, the shops, the cobblestone streets…this was the quintessential classic Mexican pueblito. The town is a treat all by itself and I could see myself hanging out there for a few days. I'm not one for shopping, but Bésame Mucho is hands down one of the coolest gift shops I've ever seen. It looks more like a magic or sorcerer's shop, with lots of sparkly and shiny things and the raddest and most colorful and outrageous blown/sculpted glass sculptures you'll ever set your ojos on.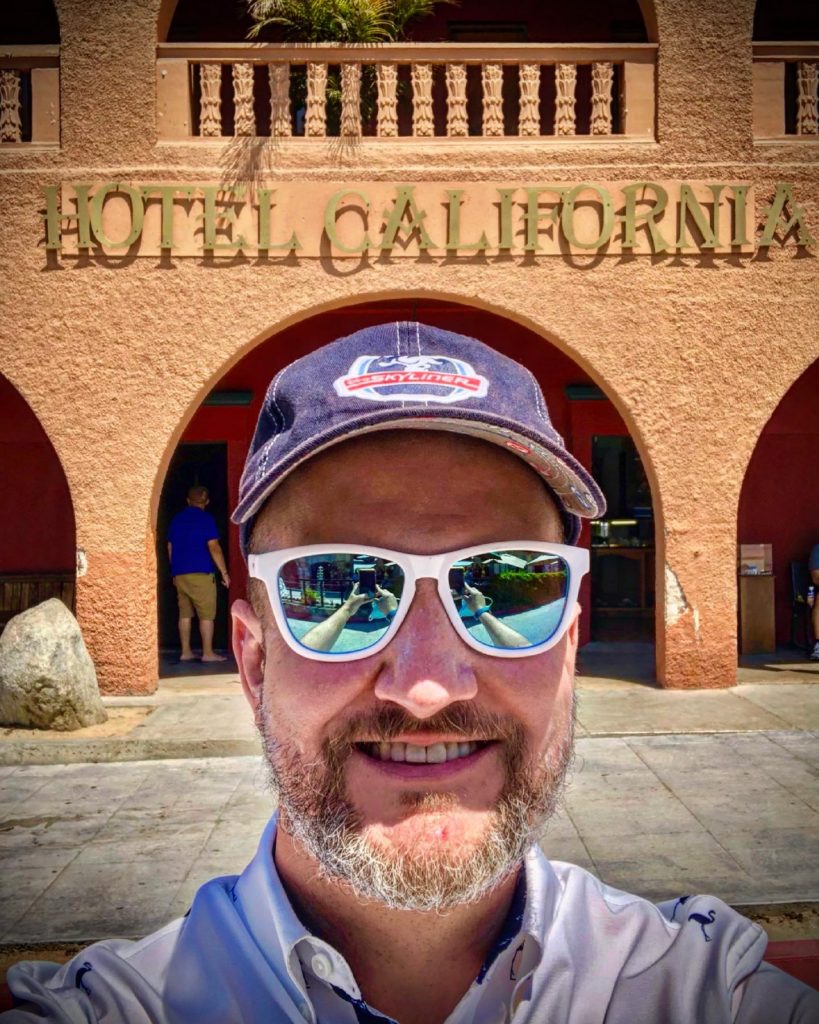 The Triumph
There wasn't a dull moment, as we soon rolled out of Todos Santos, through the hills and over to the old mining town of El Triunfo (The Triumph). Here I saw the old brick smokestacks and some mining gear before lunch at El Minero. The plato mixto was a charcuterie board on steroids and included fresh everything – sausage, aged cheeses, pepper jelly – all grown here on the local ranch. After lunch I received a V.I.P. tour of Museo Ruta de Plata, where our private guide took us through the long and interesting history of this mining town. I'm normally not a "museum guy," but this one was so well set up and very interactive, it was able to entertain even a non-scholarly hillbilly like me!
I'm Not a Camper, I Just Glamp a Lot
My accommodations for the night were incredible! A giant, luxury tent on the beach at La Ventana. Chilo Chill is one of La Paz's best spots for "glamping" (which is a portmanteau for "glamorous camping.") After being escorted to my tent, it was into my trunks and straight over to the water to cool off. The Sea of Cortez was refreshing but not freezing like the Pacific side. I enjoyed watching the sunset while paddle borders floated by and the jovenes played a giant game of Jenga on the shore. I was afraid that this place might be super loud and full of partiers at night (I know, old man here), but to my surprise, the bar shuttered at eight and soon after it was lights out for the whole camp. I changed into my jammies and laid out under the stars before heading in for my slumber. This was the definition of relaxation and escape. Loved it!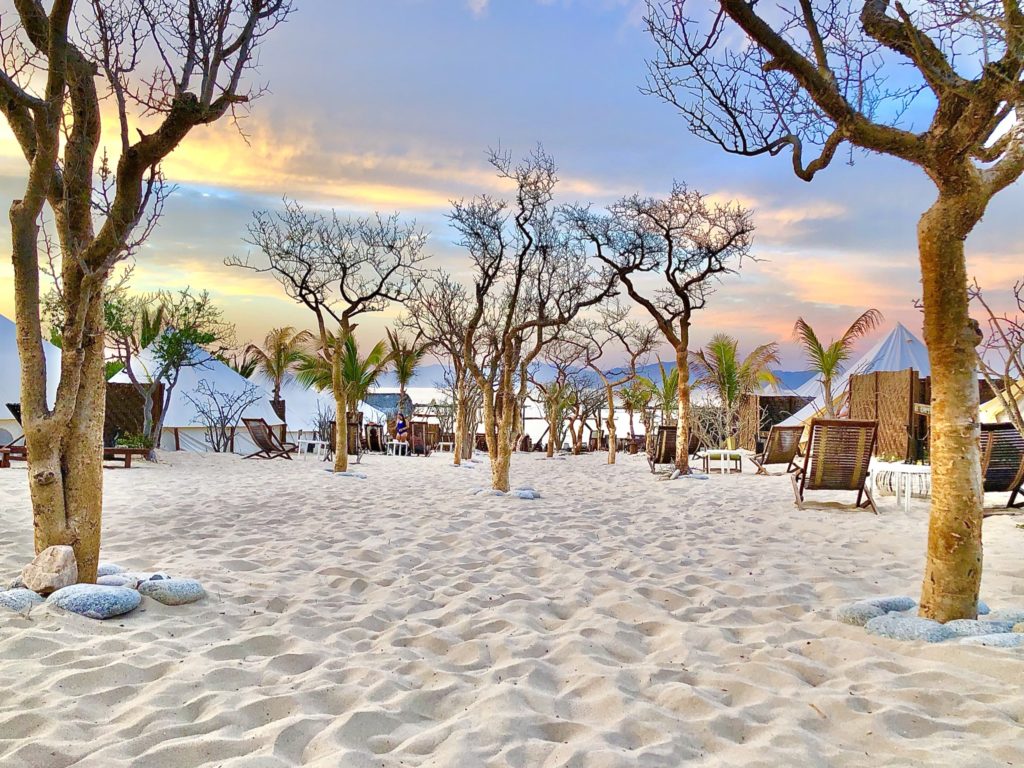 Day Four
It was up and out early and back on the road for a visit and hike at Rancho Cacachilas. We drove into the wilderness to meet Sebastian at the beginning of a gated dirt road, where we turned in and headed deeper into the desert and finally into Rancho Dos Hermanos (one of six ranches that make up the property of Cacachilas.)
Our two-hour hike into the mountains led us through fantastic, winding trails, so well manicured and maintained – not to the point that took any aspects of the raw nature away, but enough for a pleasant and safe experience. Sebastian taught me all about the animals and plants of the area. We snapped various branches open to enjoy their internal aromas and learned about their medicinal qualities. We even ate a few sweet things from bushes and trees; although I was warned that eating one berry would cause a human to become paraplegic. Yikes!
Snack Time
At the end of our hike I was treated to a tablet full of various goat cheeses (new and aged), all produced here at the ranch. Combined with fresh honey and plum jam (also from the ranch), it sure was a tasty treat. Tamarind juice was served from a pitcher. We said hello to the goats and toured their milking facilities and cheese-aging building, then visited the garden before enjoying lunch under a palapa. The fresh passion fruit juice hit the spot after the vigorous hike.
House of the Sea
After our time at the ranch, it was time to return to La Paz proper. I checked in to an eight-room boutique hotel named Casa al Mar. What a beauty! My tri-level room was made up of concrete, glass and wood and was one of the coolest rooms I've ever had the pleasure of staying in. The location of Casa al Mar is just as rad as the building itself. It lies on the main strip, facing the Malécon and that gorgeous turquoise water. The bed was super comfy and the staff friendly and attentive.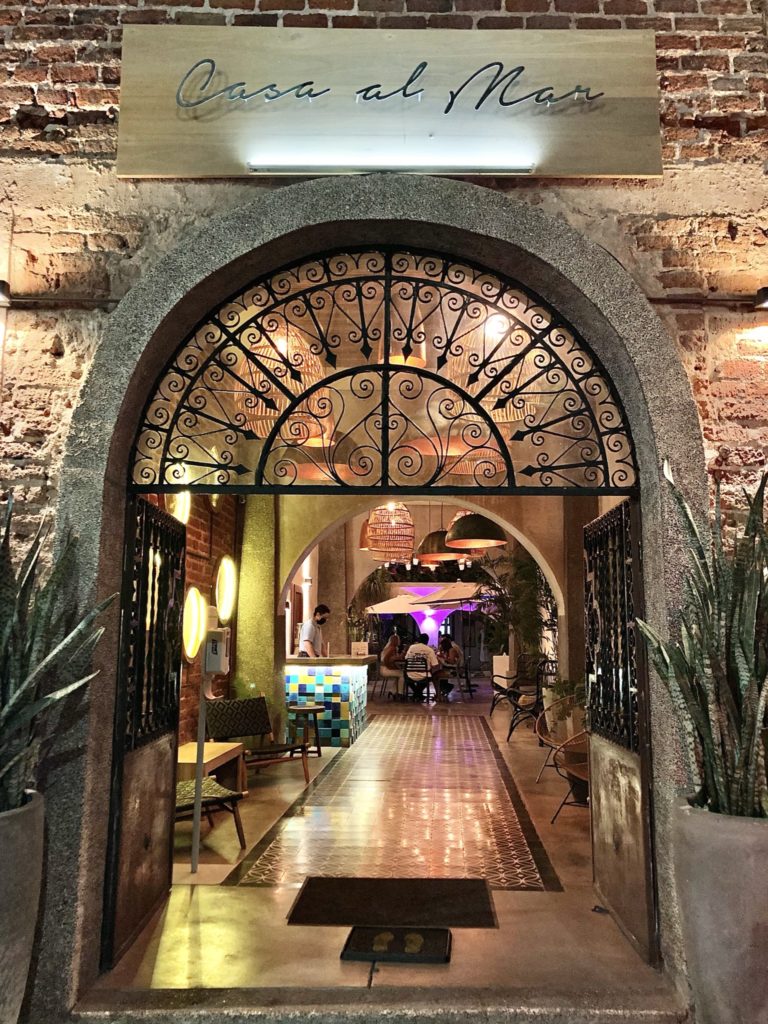 Man About Town
I enjoyed a very informative walking tour with Iván. He was born and raised in La Paz and knows everything about his city (and the whole county.) I could tell he was proud to be a Paceño. We took a tour of the Museum of Art and enjoyed their newly installed Frida Kahlo exhibit. On the streets, Iván showed me statues, monuments, murals and significant buildings and landmarks. I couldn't help but be a little overly excited about the neverías (ice cream shops).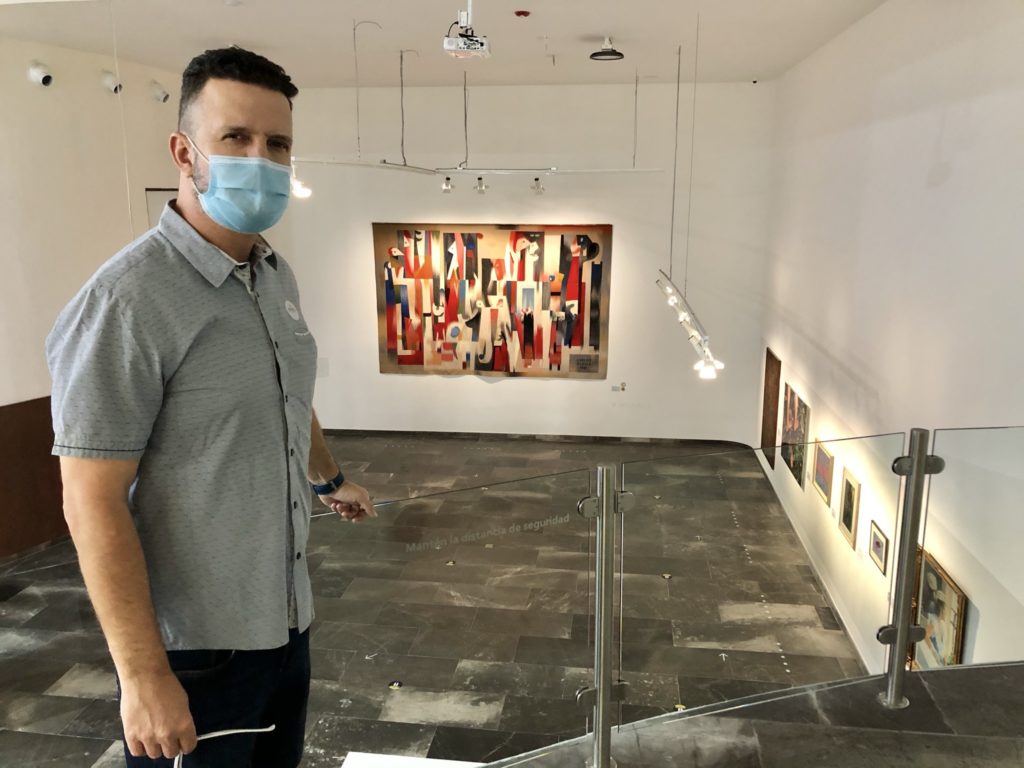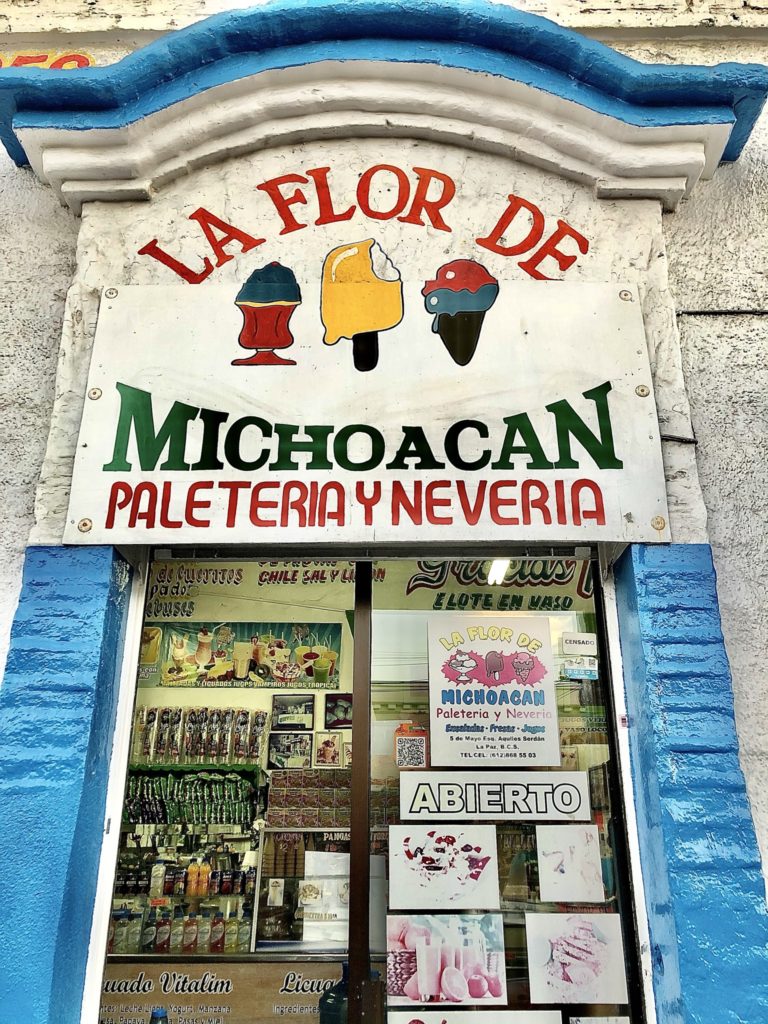 Food for Thought
I finished day four with a wonderful steak at Sorstis. I was joined by Iván and La Paz's Director of Tourism, Fátima. The food was excellent and I enjoyed the live jazz music, which sounded so good with the acoustics of the open courtyard. Of course the company made the night that much more special. It was another dream day in La Paz.
Day Five
Sigh. The final day. Iván saved the best for last. By 9AM I was aboard a boat, cruising out across the waters towards Espiritu Santo Island. Ever since I was a child, I've always been mesmerized by clear ocean water – the kind common in the Caribbean. I never imagined such water was only two hours away from home. We spent the day cruising the inlets, caves and bays of Espiritu Santo and its sister island, Partida – which I was told sometimes joins together as one, during a low tide. What was most surprising was how quiet and un-crowded the beaches were. The entire island is a protected and uninhabited area except for a few fishing camps. I saw a small collection of shacks on one of the beaches, where the fishermen live. I was told some of those "shacks" even have satellite TV. Give me a rental application NOW!
The wildlife was awe-inspiring: flying rays that would leap out of the water, a bay of turtles, birds (frigets), even a whale! We cruised out to a giant rock in the middle of the water where the sea lions lived and even took a swim with them. Magical. Special thanks to Juan Carlos, Christian, Lorenzo, and everyone at Tuna Tuna Tours!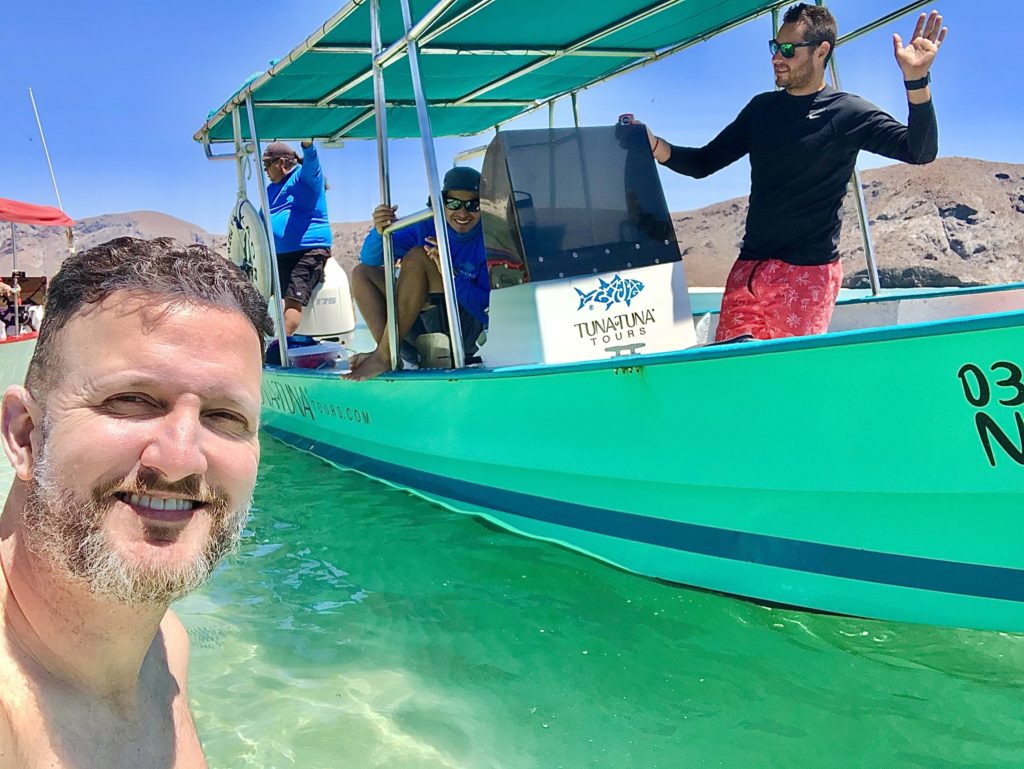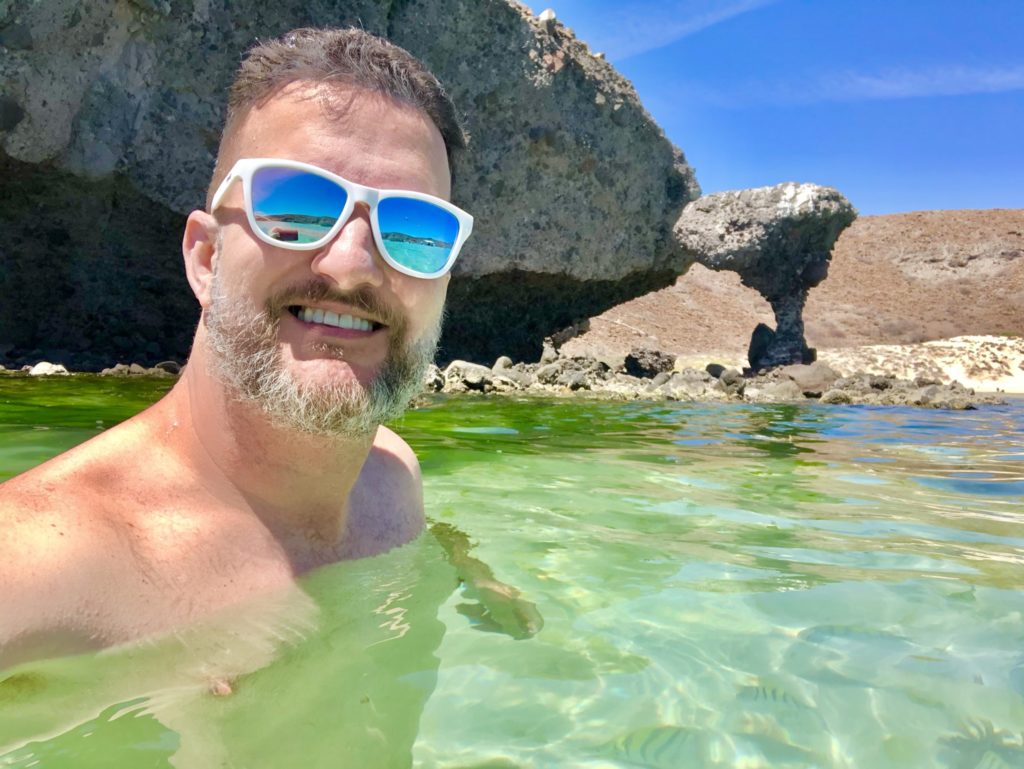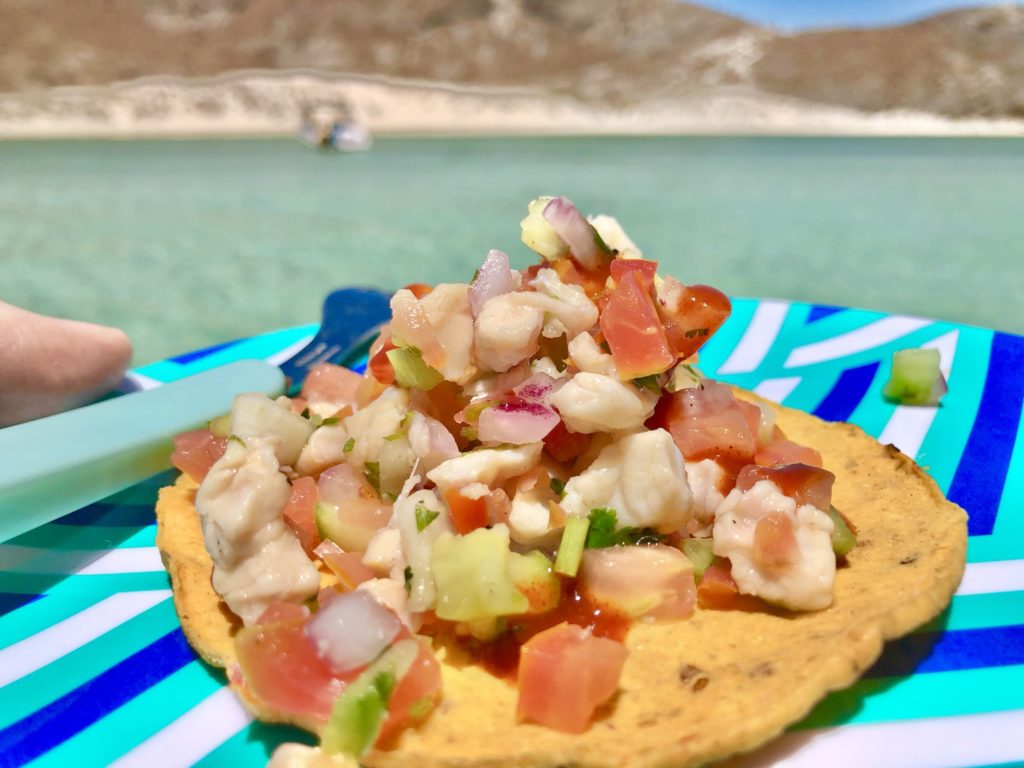 Cheat Day
It was my last night in La Paz and I'd go out with a bang. Sadly, Josefa's Bakery had already closed (Oh, how I wanted to try her pay de fruitas rosas [red-berry pie]), but I found plenty of other places to ruin my diet. I started with a paleta at La Fuente before searching for a famous La Paz hot dog. By the end of the night, I'd have two hot dogs, two paletas and one giant agua fresca. I took a seat in the main square and people-watched as families danced and frolicked in front of the cathedral lit up by the golden sunset. I imagined it would be a great life growing up in La Paz. This place is so special for countless reasons. On the way back, I noticed the Malecón (boardwalk) was packed. It's mildly busy in the daytime, but at night it bursts alive!
Happy Trails
It was time to go home and I wasn't ready…five more days, please! The trip home was as easy as getting there, as I coasted across the CBX and into a cab home. I was back on the air that same day.
What a trip…what a destination! Thanks again to the La Paz tourism board for having me. Food, fun, adventure, amazing people. And so close! #LiveLaPaz! You can learn more at golapaz.com.