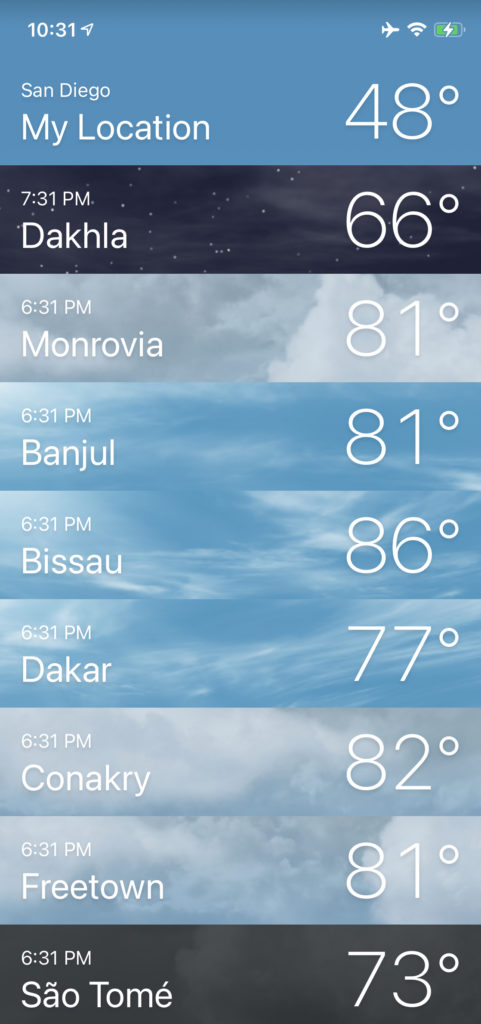 Even I admit, attempting to travel multiple counties in Africa on a tight and fast schedule during the pandemic was silly, risky and maybe even dumb, no doubt. But I'd secured the perfect route and mileage redemption into the unseen (by me) disputed territory of Western Sahara nearly a year ago. I'd already canceled so many trips this year – trips I'd booked so far ahead in 2019, before any sign of a pandemic. Plus, this little slice of West Africa was just sitting there, unfilled on my map, taunting me like the last sliver of pie sitting in the pan waiting to gobbled up in one swift bite. Against my better judgment, I'd do it. You'll read below of multiple miracles unfolding along the way. There's no way I should've been able to see every country on the itinerary, but I had some amazing luck, again and again.
Here's a quick recap of this December 2020 mid-pandemic West African adventure! All trips were AIR unless noted OVERLAND.
Western Sahara
While the disputed territory of Western Sahara is not one of the "193" fully-recognized nations, it was a territory I wanted to cross off the list. (It also taunted me often, not colored orange on my been app!) I'd been to Morocco four times in the last four years, but hadn't yet ventured south into Western Sahara, and now was the time. Due to a last minute flight change by the airline, I was only able to spend one night in the city of Dakhla, but I made the most of it. From sipping coffee and eavesdropping into lively conversations at local cafés, to poking through charming residential neighborhoods and snapping photos of mosques and markets, I enjoyed my day in dusty Dakhla, with not another tourist in sight.
NOTE: This disputed territory is referred to as Moroccan-Sahara by some (part of Morocco), Western-Sahara by others (independent.)
>>> See the full Western Sahara story HERE.
Liberia (157/193)
Liberia was like no other African country I'd ever been to. For a place with such few tourists, it's the one country in Africa that has the most similarities to America. Founded by former American slaves, Liberia pays homage to the USA in many ways, from its flag to its government structure to the names of its streets. Even the capital, Monrovia, is named after President James Monroe. I enjoyed exploring the streets of Monrovia, an old, abandoned 5-Star hotel and learning about the country's history at their national museum.
>>> See the full Liberia story HERE.
The Gambia (158/193)
The Gambia was used more as a place to get some business done, than an area to explore. I needed to acquire some visas and a fresh Corona Virus test. When my obligations were completed, I did have a few hours to relax at a beautiful seaside resort before running off. My room had a view of the sea and direct access to the pool from my sliding glass door. The Gambia was also the place I saw the most tourists. Even during a pandemic, I saw scores of Europeans enjoying the country's sun and sand. I felt a little guilty that I didn't get to experience the "real" Gambia – the city, the culture, etc., but perhaps I can if I return one day. The country, nicknamed Africa's Smiling Coast is extremely welcoming to visitors.
>>> See the full Gambia story HERE.
Senegal (second and third visit)
This would be my second trip into the country – the first mainland African nation I'd set foot in back in 2016. Though I'd only pass through the thin sliver of Senegal, between Gambia and Bissau, I enjoyed lunch on the banks of the Casamance River before crossing the border to Bissau.
After Bissau, I'd spend the day in Dakar on a ten-hour layover, getting a Corona test and visa for Conakry. Senegal had been good to me.
>>> See the full Senegal story HERE.
Guinea Bissau (159/193)
I was excited to spend some time in the former Portuguese colony of Guinea Bissau. I wouldn't have necessarily chosen to stay for five nights, but flight schedules in and out of one of the world's most-difficult countries to get to were already sparse – add in a pandemic, and if you can get in, you ain't leavin' for a while.
I explored the capital for Christmas week, admiring all the old and crumbling colonial and Art Deco buildings scattered around the city. I especially enjoying being able to converse with the locals in Portuguese and was treated to a special visit to the local radio station. It was nice to relax and unwind for a little bit in one of the world's least visited nations, even if it was a little longer than I wanted to. Sometimes being forced to slow down has its benefits.
>>> See full Guinea Bissau story HERE.
Guinea  (160/193)
This was the trip that almost didn't happen. I'd spent the last two months desperately trying to obtain a visa to visit, with no luck. I pulled out every trick in the book, including visiting three Guinean embassies once I was on the road in Africa. By a miracle, I was able to pull off the ultimate Hail Mary during at the Guinean embassy in Dakar – this was during a connection in Dakar, just hours before the flight would leave! I'd already even made alternative flight reservations. I can't believe I got the visa, just in time!
Though an airline schedule change forced me to cut my visit in Conakry short—just one night—the visit was super meaningful, as I had a great, long dinner and visit with my new friends from the radio station there.
My overland trip out of Guinea was one for the books. I was sent to "the principal's" office. Behind closed doors with the commissar, I was threatened to be sent back to Conakry (a six-plus hour drive on atrocious roads) and then even told I was going to a jail cell! I thought I was being PUNK'D! I ultimately was given permission after close to an hour with the "big boss." We exchanged info and are now friends. A short time in Guinea for sure, but definitely one of the most memorable!
>>> See full Guinea story HERE.
Sierra Leone (161/193)
A similar story to my Guinea exit, Sierra Leone's land borders were shut as well. Not only did I manage to finagle entry, but I was sent into town (a three-hour journey) in the state's Mercedes Benz, personally driven by a lieutenant.
Because of the previous flight adjustment, my stay in Freetown was cut short as well, however I fully enjoyed my relaxing night and morning on Lumley Beach: It was a nice reward for the struggle getting there.
>>> See full Sierra Leone story HERE.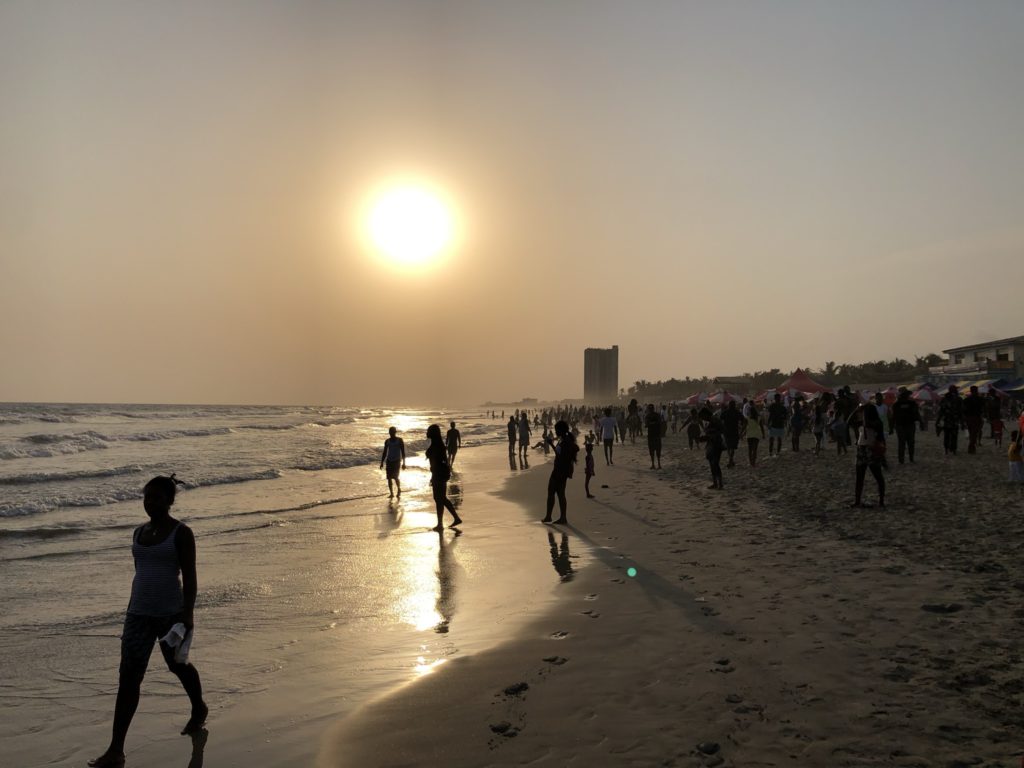 Ghana (second and third visits)
Although only 20-hour, overnight layovers, both stops in Ghana were absolutely fantastic, due to a friend I made at the airport. Serendipity took over and allowed me to meet a nice young lady who happened to be a supervisor at the airport in Accra. This stranger was kind enough to escort me past through the three-hour-plus arrival process which included standing in multiple lines to get a Corona test, receive results, show your results and get through immigration. The airport and lines filled with thousands of passengers were nothing less than a madhouse, but for some reason I'd been blessed with a V.I.P experience reserved for royalty. It was an added bonus that this new friend would show me around the city after she was done working.
>>> See full Ghana story HERE.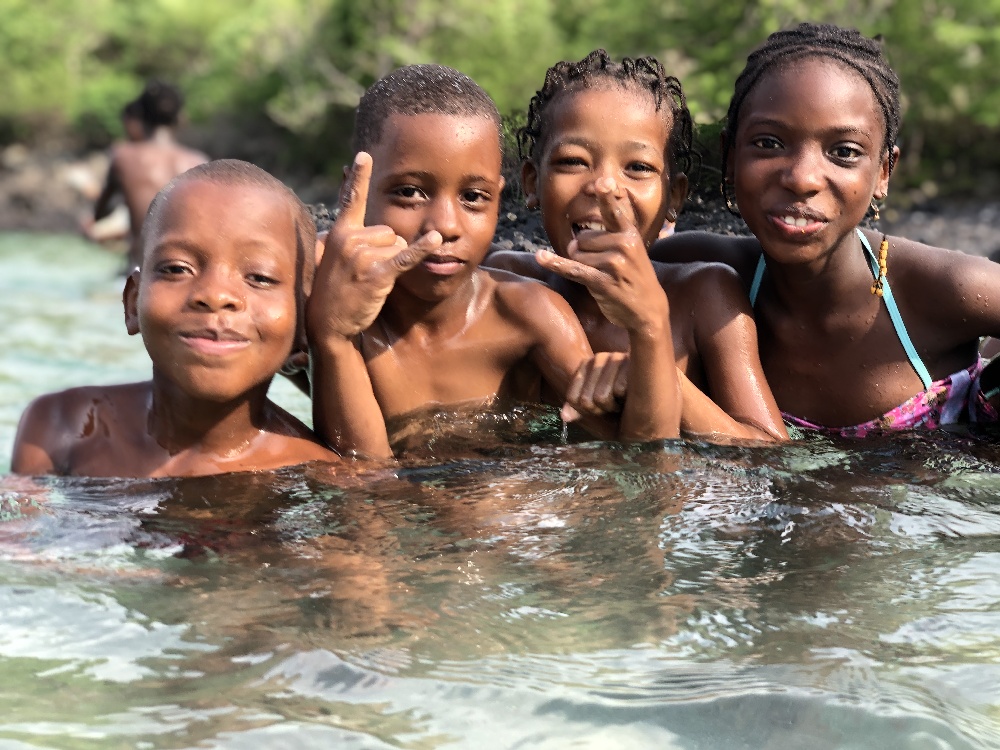 São Tomé e Principe (162/193)
There was no doubt that finally landing in São Tomé was the grand prize – the reward after completing such a challenging journey, which included getting stuck/turned back a whopping five times. How I wiggled out of each scenario, I'll never know. Luck was definitely on my side. Beating those incredible odds and making every flight and squeezing through every locked border finally led to arriving at the country I was most excited to see on this trip…and it did not disappoint!
>>> See full São Tomé e Principe story HERE.