Hey Monica! Hey New York Times peeps!
With only 1,200 visitors per year, the tiny island nation of Tuvalu is the third least-visited country on the planet. This sliver of an atoll (a group of them, actually) spans just ten square miles and is home to just a little over 10,000 residents; but not one ATM. Credit cards aren't accepted anywhere in the entire country. And the people here bury their dead in the front yard. More on all that later…
I very recently had the pleasure of spending 48 hours in Tuvalu over the Thanksgiving break and am currently working on:
-A full report (article) with photos
-Two produced videos
-A podcast
First though, ten of my favorite flicks from my two days on this enchanting and quirky island.
Just when we were about to touch down in Tuvalu, the pilot pulled up on the Fiji Link ATR-72 and gave her full power. We were doing a go-around. So why the mis-approach? The flight attendant soon informed us it was because of a dog on the runway. The entire cabin chuckled. I'd soon find out why this particular runway was so special.
At around 5PM hundreds of Tuvaluans meet at a very unconventional place. It's not a beach, park, or even a coffee shop. It's the country's only runway. There's no fence and no security; just 5,000 feet of wide open and inviting asphalt.
Walking, jogging, cycling and even soccer takes place daily on the single runway at Funafuti International Airport. When it's time for a plane to land (which isn't often), sirens sound and the people scurry off.
Yes, it may be totally unsafe and even cringe-worthy to see, but it's also so damn cute: seeing all the toddlers on the back (and many in front) of motorbikes–Tuvalu's most common mode of transportation. I don't think I saw even one helmet during my two days on the island, but then again, the average speed looked to be around 15 miles per hour. Did I mention there is not one stoplight in the entire country?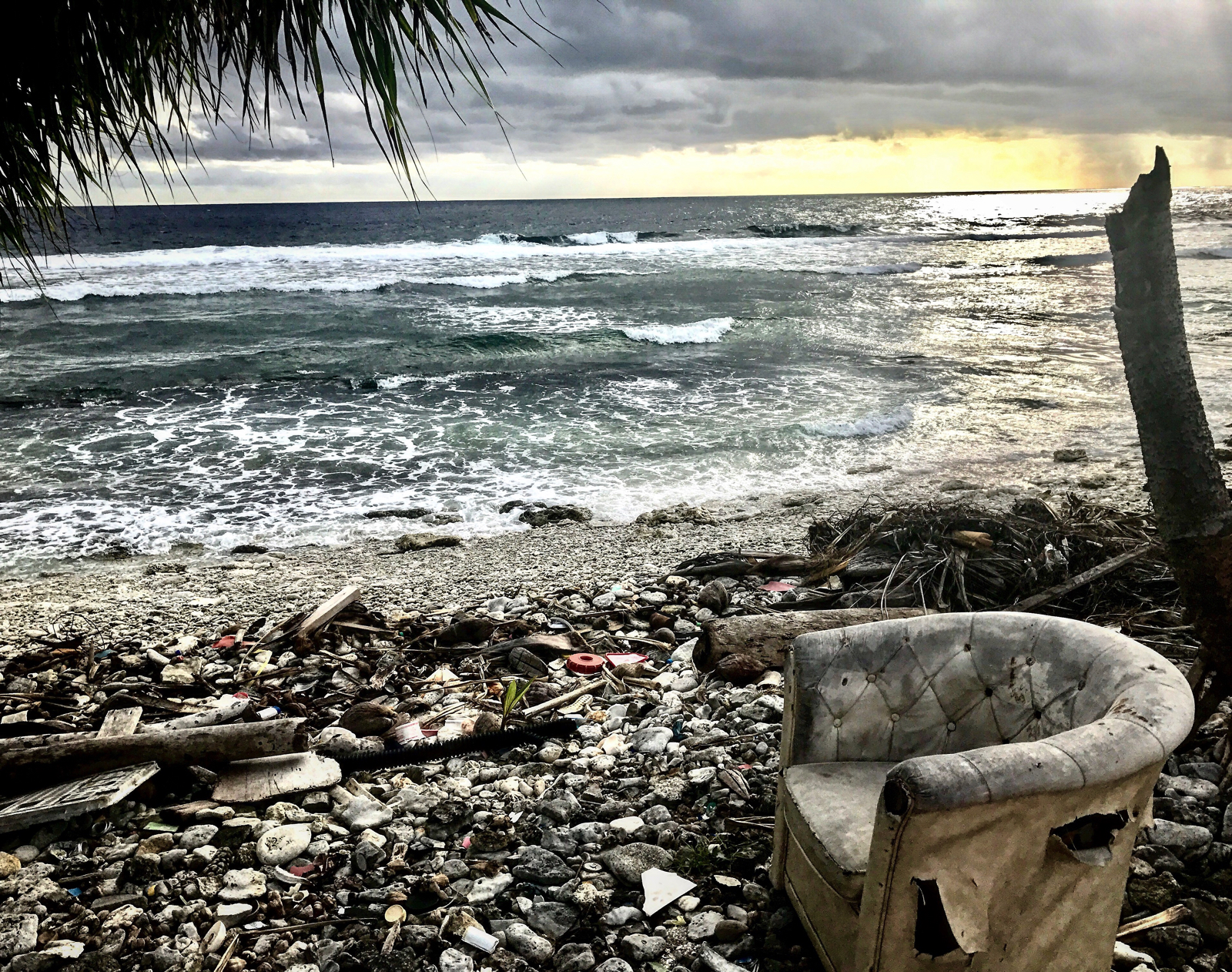 When you have a population of thousands on a tiny island, it's not that easy to just make things disappear. So often discarded items are just left out in the open to slowly deteriorate over the years. Like this chair.
When you live in Tuvalu, you work with what you've got. These four just came in from a swim in the sea and are washing their hair under a rain gutter.
Because what's cooler than a white picket fence? A white picket fence with red tips.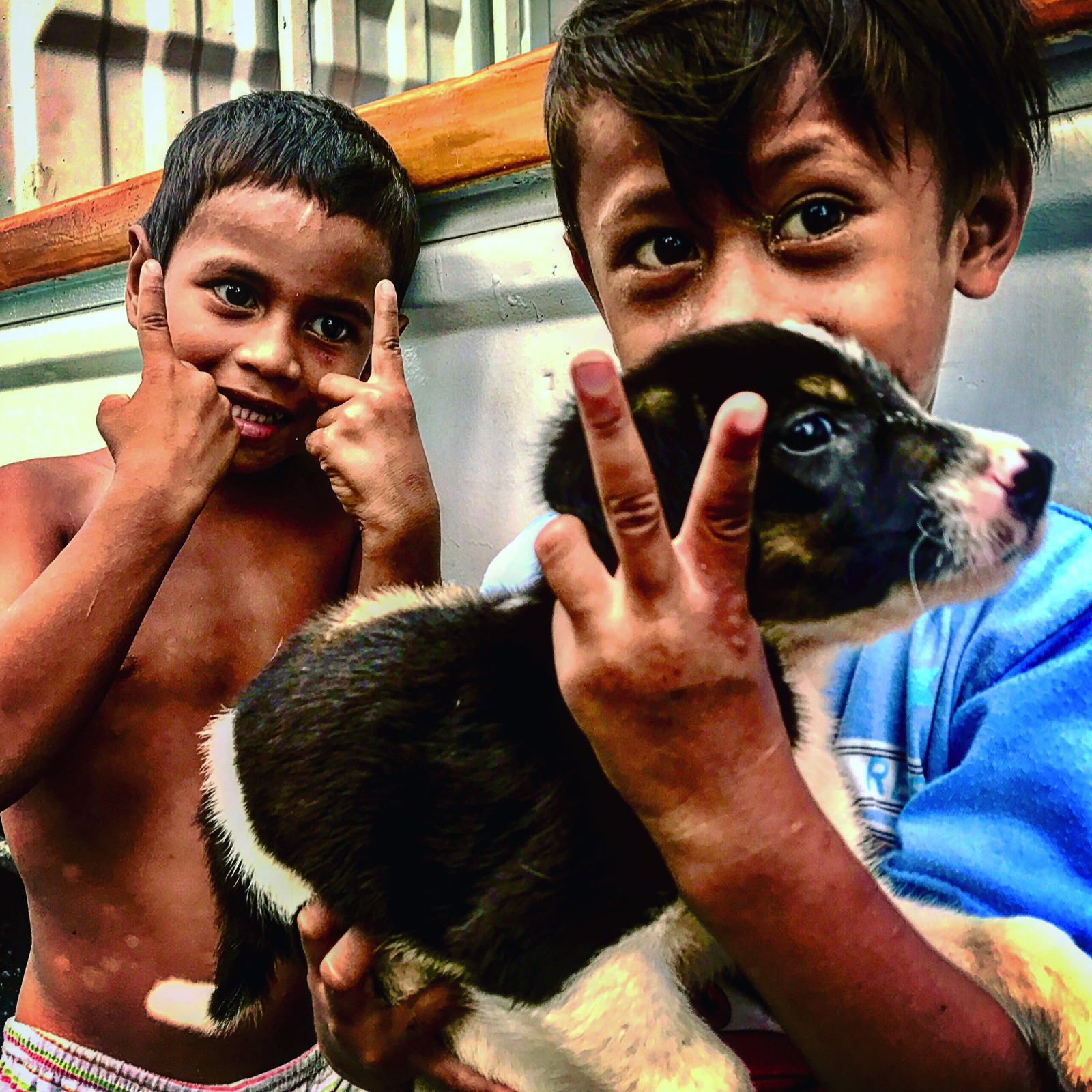 These boys were proud to show off their doggie.
You had one job.
The benefits of island life: kids enjoy an early morning swim in the ocean before class at Nauti Primary School.
Related:
HireMeMonica.com MAIN PAGE
I'm Too Sexy for My Map (video)
Monica Drake – The TV Commercials
But What's Your Agenda?
6 Ways Monica Drake Eerily Reminds Me of My 7th Grade Crush
I've Had Some Superb Bosses…Will YOU Be One of Them?
For Monica: A Special Message from Al B. Sure!
14 Things You Can Do Instead of Emailing Monica
101 Reasons (and Fun Facts) Monica Drake Should Hire Me
10 Reasons Proof Positive I am Your Unicorn
Monica Drake to The Principal's Office: My Professors Would Like to Have a Word with You
My materials: CV, memo and samples
My Instagram
My Flickr
My LinkedIn