THEE best two burgers on the planet…And you'll probably never get to try the second one!
*** THIS ARTICLE ORIGINALLY PUBLISHED IN 2016…SEE 2023 UPDATE BELOW ***
This is another hands-down number one award winner, with no one else even coming close.
The Juicy Lucy from 5-8 Club is a Minneapolis legend: an ubër-flavorful hamburger with the cheese cooked inside the middle of the patty.
What makes it absolutely awesome is that the meat itself is seasoned and grilled to perfection and then slid between two lightly-toasted, buttery buns. And normally people brag about the size of a burger: the bigger the better. Not the case here. The Juicy Lucy's size is more than manageable, delivering the perfect distribution of flavors on each and every bite; sometimes you lose this delicate balance with giant burgers, where the first two bites are bun only…or a patty so big, that when you near the end, your bread has all-but disappeared and you're just left with a chunk of meat.  Lucy actually leaves you wanting more, so you don't leave The 5-8 Club feeling like an absolute hog. Of course you can always order two, like I do. #absolutehog
Let's take a moment to marvel at The Juicy Lucy up close…
FUN FACT: There is a dispute on where the Juicy Lucy originates: The 5-8 Club, which was originally a speakeasy back the day…or Matt's Bar. I don't really care, but I've tried Lucys from both restaurants and 5-8 Club gets my vote!
Try 'em both for yourself, and you be the judge! But you cannot come to Minneapolis without experiencing a Juicy Lucy.
5-8 Club
5800 Cedar Ave
Minneapolis, MN 55417
Matt's Bar
3500 Cedar Ave
Minneapolis, MN 55407
2023 UPDATE…
Nuuk, Greenland…who woulda thunk they could even come close to my beloved Juicy Lucy, but they did.
At first, I called their burger the second-best…but by the time I'd devoured my last bite of that absolute masterpiece of a burger at Café Inuk, there was no doubt, that at very least, this one tied with the Juicy Lucy for the number one hamburger in the world!
Oh, did I mention it was a reindeer burger? Ohhhhh yeeeeaaahhhhhh.
Let's start with the meat; the "reindeer." It was the tenderest, falling apart before it got into your mouth if you weren't careful. It was some of the most flavorful meat I've ever put into my mouth. And, yes, that's what she said. The bun was soft and butter and perfectly designed to keep everything together if you were patient and strategic enough. The condiments complimented the reindeer oh so perfectly: tomato, lettuce, cucumber (Who knew?!), garlic and a "secret" chili mayo. Everything came together so perfectly, like an orchestra. It was just messy enough – even the "amount" of added stuff was to perfect proportion.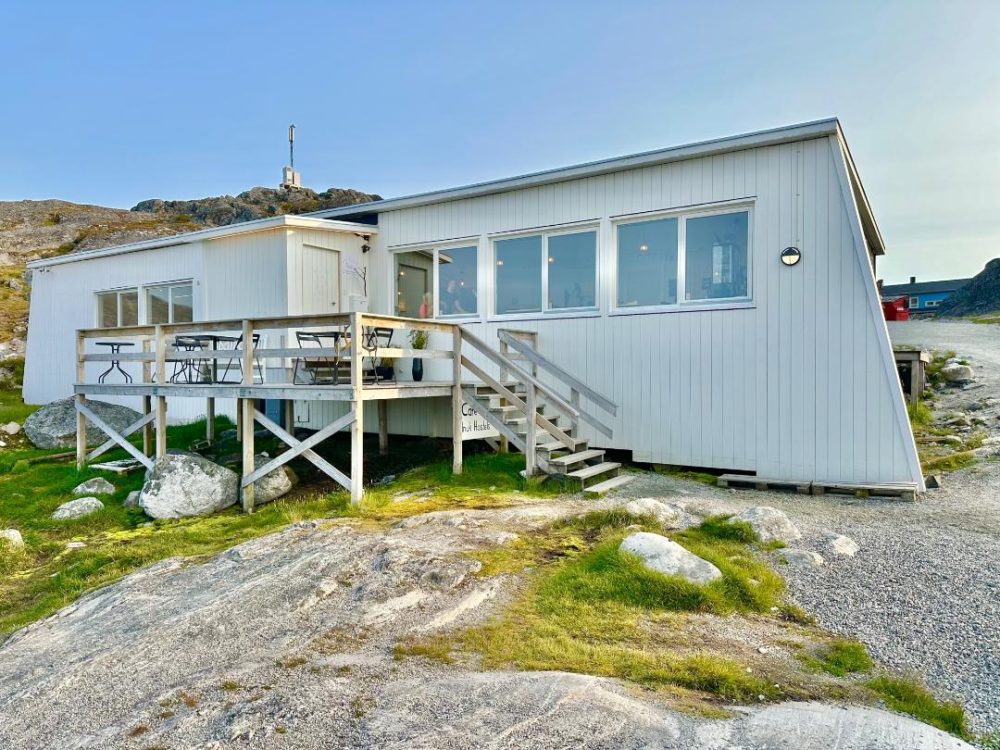 After the less-than-mediocre meal the night before at another restaurant that shall remain nameless, I was not expecting such a heavenly meal. The reindeer burger at Café Inuk was a 10 out of 10 and a brand new Ramblin' Randy "Best-Of!" I'm sure your chances of going to Greenland are slim to none, but if life ever takes you to Nuuk, you cannot miss out on this burger. Extra points for the Louis Armstrong music playing at the restaurant, too. Does it get any better? Why, no…no it does not!
Café Inuk
Qasigiannguanut 2
Nuuk 3905
Greenland
>RETURN to main "Best Of" list