Bissau, the capital of Guinea Bissau, is one of the least visited countries in the world, and one of the hardest places to get in and out of, due to an obscene lack of flights servicing OXB. In all of my travel experience (162 countries to date), I've never had a more difficult time visiting a country!
During my visit, the only way in or out was through Senegal or Lisbon, and the Senegal flight was weekly. This caused me to have a pretty lengthy stay of five full nights. During my time in the city, I had a chance to visit the handful of main hotels and have listed them and their info below.
Bissau Royal Hotel
This was the hotel I ultimately chose to stay for all five nights. I enjoyed Bissau Royal for many reasons: The hotel was very new, clean and one might even say fancy. Their rooms included marble floors, crown molding, great AC and nice views, including a little balcony. There is a pool and bar on the roof with amazing views.
The room rates were fair (not cheap, but not a rip-off either). Their restaurant had a great menu and their staff was very attentive, helpful and pleasant. Special shout out to hotel manager Rami (I got to know him well during my five nights there) and Alaje in the restaurant. You might even spot the Syrian owner, smoking while playing backgammon on the patio.
The best thing about The Bissau Royal is their location, right in the heart of the center and an easy walk to the sea, Bissau Velho or over to Mercado Bandim. Corona Virus testing was being done right across the street! Marvel at the Art Deco of the classic (and now defunct) Cinema Ubid, which lies directly across the street from the hotel.
The one thing they might be able to improve on is their breakfast buffet which was not impressive, although it was included in the room rate.
RAMBLIN' TIP: There's a great frozen yogurt joint, right outside, connected to the hotel from the side street.
You can CHECK PRICES and BOOK the Bissau Royal Hotel HERE.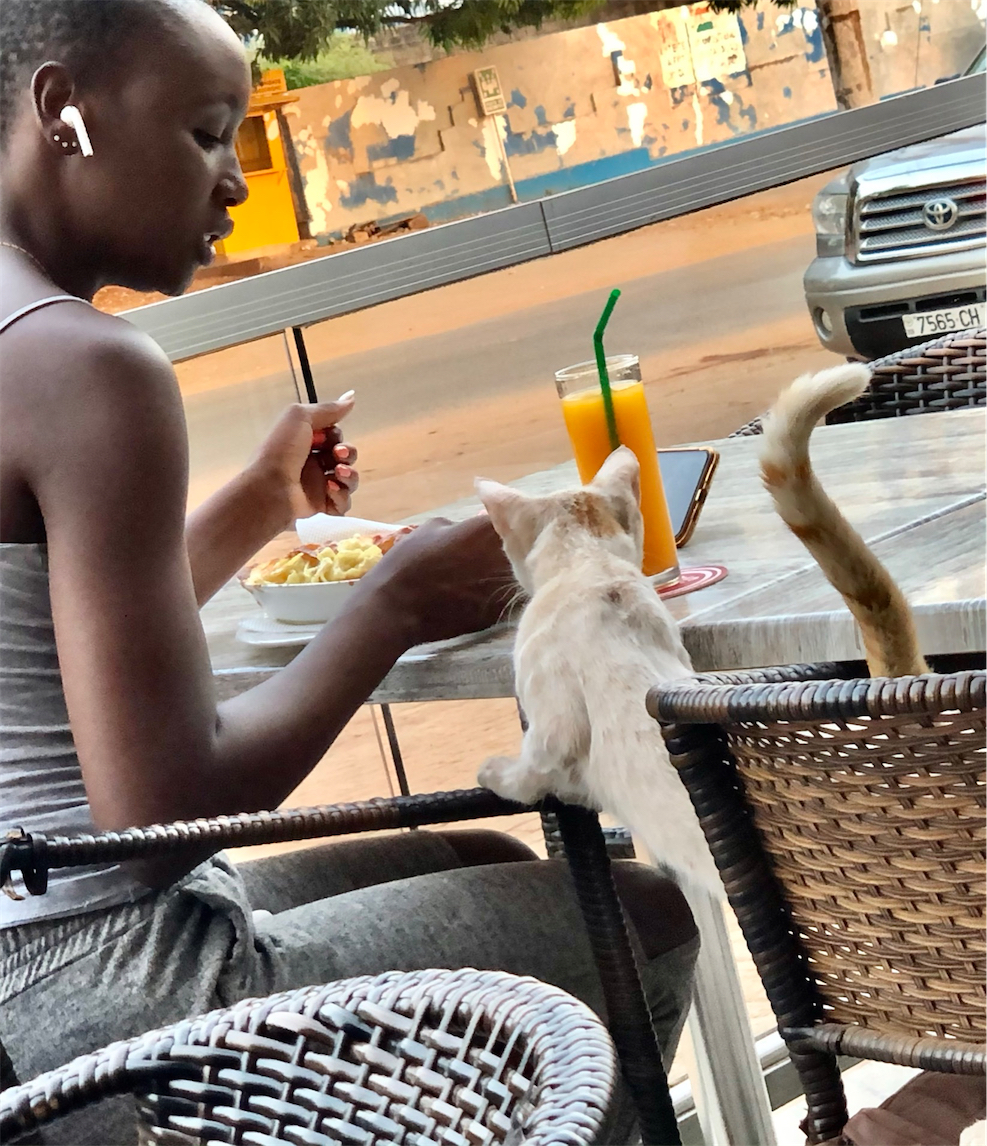 ---
Ceiba Hotel
The Spanish-owned Ceiba Hotel, with its bulky and cold architecture reminiscent of a federal administration building, is no doubt the nicest and newest hotel in town. You'll pay for it too – the price was a little steep for my budget, although I was tempted to splurge. The decor inside is modern, chique and clean, with a beautiful pool and multiple restaurants. Ceiba's got a great location, just a couple blocks away from Mercado Bandim and a short walk over to the center of town and the sea.
RAMBLIN' TIP: Even if you don't stay at The Ceiba, stop in and pay a visit to the Corisco Café for a fresh glass of juice. It's a great way to cool off after a day of exploring and you can use their WiFi to check-in with home. Tell Ricardo at the café that Ramblin' Randy sent you.
You can CHECK PRICES and BOOK the Ceiba Hotel HERE.
---
Hôtel Império
While a little older, it's also a little cheaper, and will probably do the job just fine! Império's location is fantastic, with views of National Heroes' Square and the presidential palace. It's just steps away from the Bissau Royal, placing it right in the center of town.
RAMBLIN' TIP: Even if you're not a guest at Hôtel Império, what's stopping you from popping in for a pastel de nata?
You can CHECK PRICES and BOOK the Hôtel Império HERE.
---
Pensão Creola
I actually stumbled upon this pleasant guesthouse completely by accident. While sneaking a few quick photos of this charming villa, the manager spotted me and invited me in for a tour. What hospitality! If you're looking for a really cool, homey, authentic place to stay, you should definitely look into Pensão Creola. Located in the center of town, you're just feet away from everything!
The guesthouse has no website, but you can call them: + 245 966633031
---
Hotel Kalliste
If you're a little more adventurous (i.e. you don't require luxury and all the comforts of home), you may want to look into the classic Hotel Kalliste. Sandwiched right in between the town's center and Bissau Velho (old town), Kalliste is right in the thick of the action. I was attracted to its classic, yet simple Art Deco lines with hues of orange. This hotel reminded me of the ones you see in movies – a place where Jason Bourne or Liam Neeson might hide-out in for a night, in-between their crazy missions. While I can't vouch for the cleanliness and comforts of the rooms here, it may be a fun option to look into, and I'm sure one that would help you save some dough. There's also a disco on premises!
Tell Juliet at the front desk that Ramblin' Randy sent you. She caught me red-handed snapping photos of her hotel. I tried to explain to her–the best I could–my love for Art Deco, but I'm not sure she understood.
The guesthouse has no website, but you can call them: +245 955 421 621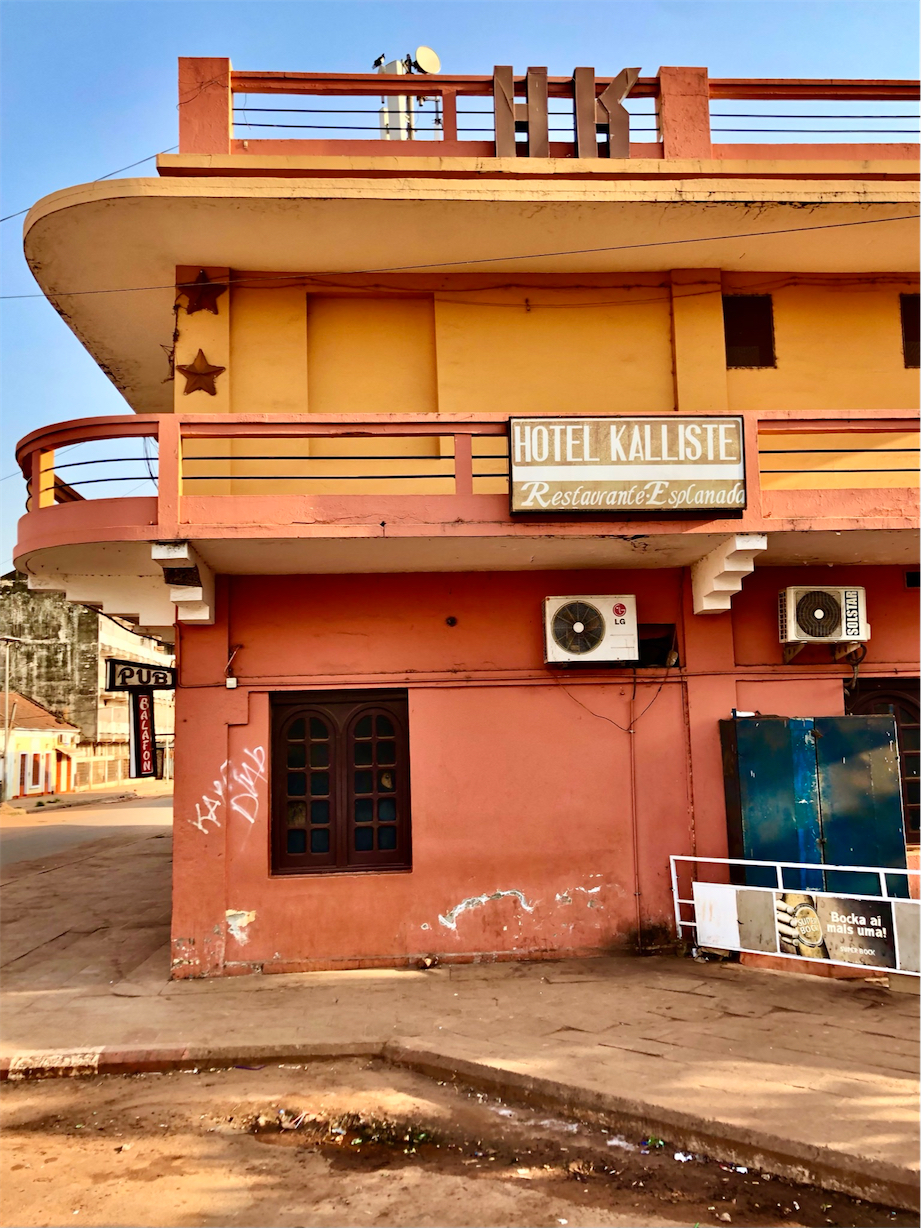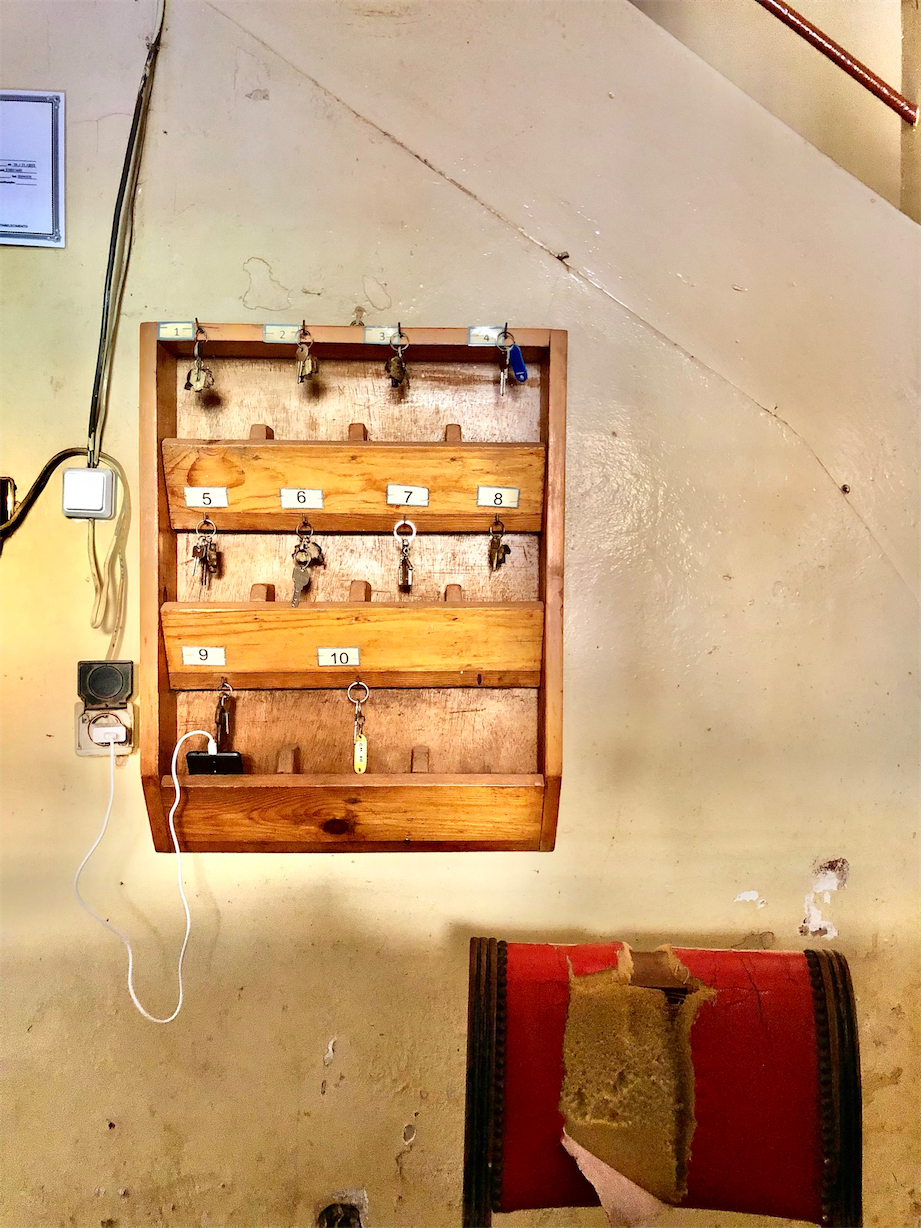 ---
Ledger Plaza Bissau Hotel
While I didn't stay at the Libyan-owned Ledger Plaza, I have stayed at their Bangui (Central African Republic) property recently, and can vouch for the chain's comfort and luxury…and high price! In fact, I didn't even pass by the Ledger in Bissau, so I can't offer you much intel, except for the fact their location is close to the airport – far from the city, sea and old town.
The hotel doesn't have a website, but here is their Facebook page.
—