40 Countries in one day! Well, kind of…
When a friend of mine told me about a special weekend in DC where a ton of foreign embassies open their doors to the public, I immediately sprang into action to investigate! Turns out, the annual Passport DC was just weeks away. I booked my ticket and I was off…I couldn't miss this!
Passport DC is described as "a month-long journey around the world highlighting DC's thriving international diplomatic community and its lively and varied culture." Every weekend this month had a different theme, but it was the weekend of May 7th that I was most interested in: The Around The World Embassy Tour.
Before I knew it, I was ascending up from out of the DC underground Metro and onto Dupont Circle, where the event seemed to center. There were about 40 embassies participating in the event that day, and most were within walking distance, located in clusters; many of them located along Massachusetts and Connecticut Avenues.  I was surprised at the crowds–there was a ton of people here for the event, I mean masses!
I picked up a program which included a map of all the participating embassies and info on the weekend. Somewhere you could pick up a little faux passport book to have stamped at every embassy you visited, but I never figured out where to pick those up. But I didn't really want one; why would I, when I had the "real thing?" I actually brought my real passport along, on the off chance that some of the embassies were offering "express visa" services. No such luck, but wouldn't I have been let down if they did offer that and I didn't have my passport!
Though about 40 embassies were participating, I was in awe at the sheer number of total embassies that lined the streets in and around this district. From giant nations in huge palaces, like Japan, China and England…to tiny republics in more "humble" and smaller buildings–like Malta, Mauritania and Latvia; it was so neat to see so many countries from around the world all in the same area. It was a shame more of the embassies didn't participate.
Not to be a complete buzz kill, but you'll always get the truth from me–the real deal–and I must say that I was a little disheartened at the outrageously long lines. Most of the open houses had lines down the street, and some wrapped around the block. Maybe it's my old age…or it could be that I had enough of the long lines at my weekend at Disneyland just seven days ago, but I had no desire to stand in line for an hour-plus just to see an embassy. So I walked, and walked, and walked…and admired what I could from the sidewalk. There was enough to see and keep me entertained for the day: dancers outside of the Colombian embassy, a seven piece orchestra outside of Chile's headquarters, singers on stage in front of The Korean embassy. It was like an international "block party!"
There was a long line into the Haitian embassy; visitors received straw hats. The embassy to the Bahamas seemed to have a line a mile long. Must have been some real goodies inside; I didn't stick around for that.
I did manage to weasel my way into the Embassy of Brasil. For those who know my story, you know Brasil has a special place in my heart. The line was long, but it moved quickly. I entered to win a trip to Brasil on the new LATAM Airlines (LAN and TAM recently merged; this was news to me!) before entering the castle of a building where visitors were given a full tour of the first and second floors. The place was quite elegant–very presidential–with colonial furniture, high ceilings, chandeliers and fine china. These ambassadors are sure living high on the hog! After moving up the stairs, through the rooms on the second floor, and back down, the line made its way outside to a lawn where a group of drummers were sounding off for the crowd.
The second of three embassies I toured was Afghanistan's. My curiosity got the best of me when I heard their embassy was open, so I got in the relatively short line and soon was making my way through the rooms of their American headquarters. The banner hanging outside on a vehicle outside read, "We want peace too."
Inside I walked through a room of art, then into another room where small crafts and packaged food were being sold (packaged dried fruits, nuts, seeds, etc.). I filled a little plastic cup with some samples, which included a handful of little kernels, nuts, (seeds?)…I didn't know what I was putting in my mouth, but it was good…and very different. I'm not sure when I'll make it Afghanistan (oh, I will eventually make there, I assure you), so this was a cool little experience. Probably the closest I'll get to the country for a while.
But their was no doubt, the embassy that won the Ramblin' Randy Award was Bolivia. Let me tell you, these guys know how to put on a party. Bolivia's embassy was overflowing out onto the street with entertainment, music, dancers, and representatives in colorful, traditional outfits. While there was a good sized line to actually enter the embassy, their side courtyard was open and easy to get into–and featured even more entertainment, folks dressed in traditional garb, free samples of food and coffee, and multiple tents and booths displaying crafts from Bolivia. One booth featured full meals and fresh fruit juices. I instantly felt the vibe. If only all of the embassies would follow Bolivia's lead. I know it's no small task; a lot of work, planning and manpower–but Bolivia's setup really was a great look for Passport DC, and most importantly, the country of Bolvia–which by the way, is one of my Top 5 favorite places I've been!
My only other disappointment, besides the long lines, was that the Venezuelan embassy was closed. They were on the program as a "participating" embassy–but upon arrival to their building, the gates were locked shut with a note informing visitors that they were indeed not taking part in Passport DC. Such a shame, their embassy was the one I was looking most forward to visiting; but considering our deteriorating relations with the rogue nation, why did their closure not surprise me? I wished that some of the other embassies would have been open too–I would've loved to take a peek inside some of the embassies of lesser-known nations, like Mauritania, where I'll be visiting in December. But even taking pictures outside, in front of their plaques, was enough to get me excited.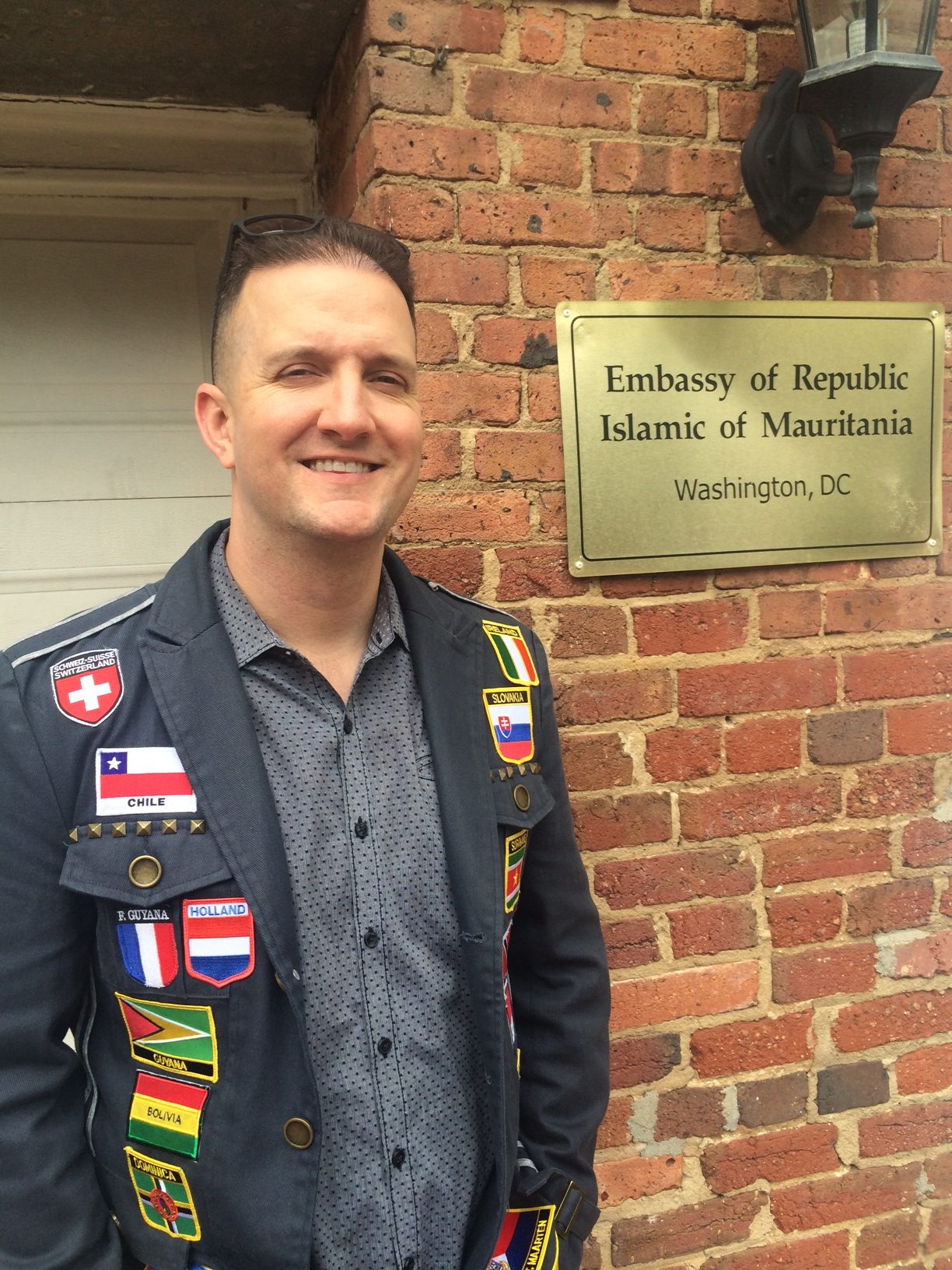 What a fun weekend! I definitely recommend Passport DC if you have the travel bug like me. Just get there early, wear comfortable walking shoes, bring water, and be prepared for lines.
Here are a few other photos I snapped while in DC this weekend, during my 36-hour stop.
A note/observation about DC. I loved how the city's infrastructure looked like it was from the Jetsons! Everything from the airport, to the subway had that "built in the 1960s to look like the future" style. Very cool.