"Those" people…
We've all seen it: folks on the plane who have no concept on how to behave as civilized grown-ups. You scratch your head and have to wonder, "Who raised these people?" How hard can common sense and the most basic of manners be to practice, especially on an airplane, where you should be on your best behavior?
But have you ever stopped to wonder if you are the problem? What if you are the flying-douchebag and no one's told you yet?
Just answer these 10 simple yes or no questions, tally the results, and see the answer below. Are you the perfect flyer, or should we change your reservation to Greyhound? Let's find out!
The Top 10 Ways to Identify If You're a Flying Douchebag (in no particular order)
1) Are you the douche sitting in the aisle seat who doesn't get up out of their seat to allow their neighbor get to their window seat?
You've had to have seen or experienced this once in your life: you're assigned seat 21A (window) and as you approach your row, someone is already sitting in 21B (the aisle seat). You give them the "nod" to let them know you're sitting in the window seat, and instead of getting up–like any civilized human being with an ounce of manners–they kindly "let" you squeeze in, between their knees and the seat, creating an instant on-board lap dance and an illicit invasion of personal space for everyone involved. What the actual f*ck?!
Yes I do this! I'm the rude arsehole who won't take five seconds to get outta my chair and let you sit down. I probably don't stand the for the national anthem either. I'm airplane scum and karma should assure that a big piece of luggage falls on my head.
No, of course I don't do that! I also offer my seat on the bus to old ladies. I have at least once ounce of manners.
2) Are you the dope in coach who takes the liberty to use the first class bathroom?
Look, I'm no "first class" snob; I'm usually in coach myself! That being said, it's common knowledge that you're supposed to use the restroom assigned to your class of cabin. So why is Thelma from seat 45J gallivanting up to the front of the plane, moving the curtain and taking the liberty to enjoy the clean(er) and roomier first class lavatory? And why the hell aren't the flight attendants scolding her?! Why should I care? Well if I'm in first class, one thing I paid for is a first class bathroom, with less traction and less fecal matter and urine scattered throughout its confines. If everyone from coach poops and pisses in that bathroom, what's the point?
Yes, I'm an entitled f*ck who didn't pay for first class, but feel I should be able to destroy its bathroom throughout the flight. I lack common sense and don't understand what that little curtain even means!
Uh, no. Of course I use the bathroom assigned to my cabin. I also don't use the express checkout lane at the grocery store when I have 386 items. I understand basic logic and possess some reasoning skills.
3) Are you the loud talker?
There's always one: someone 100+ decibels louder than the rest of us, with no concept that all the other people around them are using their "inside" voice. They usually want to broadcast their life story, health issues, or both.
Yes, that's me! I'm a loud mouth with no comprehension of my surroundings. I've been kicked out of libraries and don't understand why everyone standing on the side of the green watching The Masters golf tournament is whispering!
No. I'm pretty good at surveying the room and have mastered matching my voice levels to the people around me.
4) Do you crowd the gate before your row is called?
This one is maddening! They've only called rows one through five to board, yet there are 120 people crowding the door to the plane. I'm actually in seat 3A, so I try to board—only there is a mob of people blocking the entrance. I want to squeeze through the masses to board, but don't know if I'm cutting in front of the actual people in rows one through five righteously trying to board, or the other 110 people causing a fire hazard. Then it's too late…they announce rows 11 through 200 and I'm hosed! A double finger-wag to the gate agents who allow this malarkey. I'd make everyone sit down and clear the area until their row is called…that rarely happens.
Yes, I know I'm in seat 95J, but I get joy in confusing and inconveniencing others. I never grasped the concept of following simple instructions in elementary school and this ignorance has stayed with me into adulthood.
No, I actually listen attentively to the 10+ announcements the gate agent makes, clearly stating which rows may board. Until it's my turn, I stay comfortably seated in the waiting area, leaving the boarding zone clear for the passengers who've been called. I've mastered the art of following simple instructions when I was five.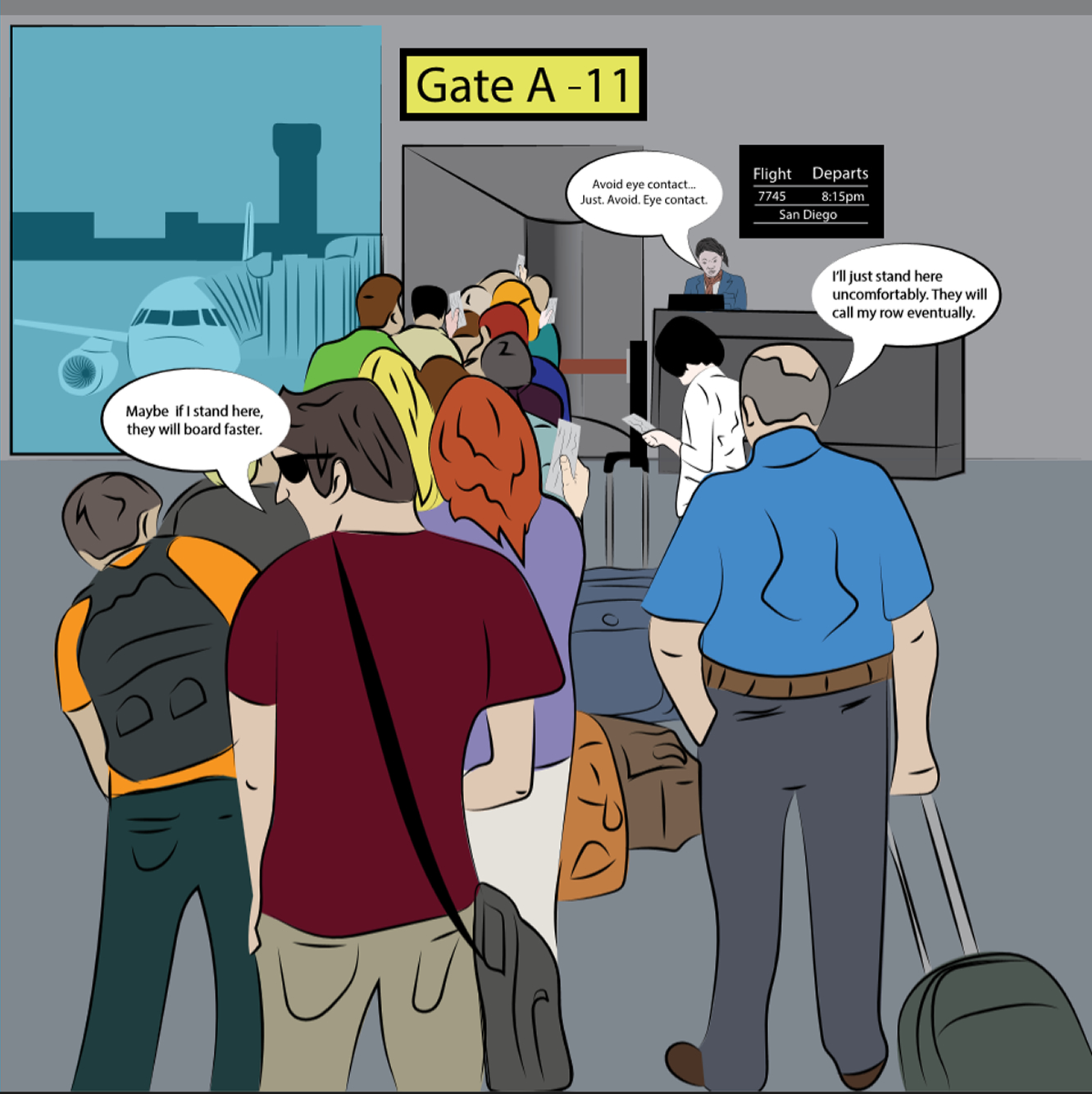 5) Are you the one guy that leaves his window shade up when it's movie time?
Don't be that guy. Every single passenger has their window shade down so the whole plane can watch movies on their monitors…except for that one guy, completely and utterly oblivious to what's happening around him.
Yes, that's me! I have no clue what's going on and haven't noticed the entire plane closing their window shades when the movie came on.
No, I don't keep my window shade open. I am at least slightly aware of my surroundings and noticed that there must be a reason why 220 people closed their window shades simultaneously while the cabin lights dimmed and the movie came on. I can put two and two together and make an educated guess that I probably shouldn't be the only one whose window shade is open with the midday sun lighting up the entire cabin.
6) Armrest etiquette: Do you hog both armrests?
There's an unwritten rule that the poor sap in the middle seat gets both the left and the right armrests; it's only the kind thing to do. Window seat gets the armrest near the window, and aisle seat gets the armrest by the aisle—leaving the guy/gal smashed in the middle with at least somewhere to rest his/her arms. But alas, there are many people out there that have no concept of manners and doing the right thing, and inevitably get comfy on both armrests, not even noticing there's a person in the middle seat, sandwiched in like a mummy in a coffin, with no room to breathe at all.
Yes, I'm that person! I enjoy both armrests and have little concern for my neighbor confined to the middle chair. I also don't hold doors open for people and like to pee in pools.
No, I do understand basic armrest etiquette and do my best to help the person in the middle seat feel just a little bit better than a sardine.
7) Are you the guy who can't find his seat?
This is always awkward, but at the same time just so damn entertaining to watch. The one guy (or girl) who is slowly and confusingly creeping up the aisle, boarding card in hand, staring at the seat numbers overhead with a befuddled look, as if they are hieroglyphics from ancient Rome. The seats are indeed numbered from 1 to 32, but somehow this guy is absolutely baffled by this confusing system of numbers and letters and looks as if he exploring an unknown planet from another dimension. These people could never get through a game of bingo, and it's astonishing that they even found their way to the gate!
Yes, that sounds like me. Basic numbers and letters confuse me. I don't even know my address. Why must this seating system be so complicated?
No, I was taught my numbers and letters in kindergarten and got 'em all down by first grade, I'm good!
8) Are you the person who doesn't know how to dress for a flight?
I understand that long gone are the days when people would "dress up" to fly; with a suit and hat, etc.…but c'mon, put at least a little effort into your appearance for the day. Let's put it this way: at the very least, please wear something with sleeves. We're going to be in close quarters for multiple hours and I shouldn't have to smell your armpit funk. I'd never look down on anyone who wasn't dressed to the nines—but I was always taught to "look presentable" if I ever left the house. So look "presentable," that's all!
Yes, that's me! I'd fly in my boxers and a robe if I could get away with it. I truly don't give a F about my appearance or how my body odor affects others. I've never had a girlfriend either.
Nope, never! I understand I'm not going to the gym or over to my cousin's trailer next door. Clean pants and a shirt with sleeves are a bare minimum for me on the plane, or anywhere else for that matter!
9) Are you the guy who takes his shoes off on the plane and puts feet up on the bulkhead?
Okay, you sir, are a disgusting pig who was raised in a barn and aren't afraid to show it. First of all, if you're not wearing socks, you should keep your damn shoes on. No one wants to see your fugly feet and jacked up toes all exposed. But what's worse than that??? The hillbilly who then decides to kick back to the extreme and put his nasty ass, sweaty feet up on the bulkhead. The bulkhead!!! The FCC should absolutely pass a law.
Yes, I do that! Along with a desire to be as comfortable as possible at all times regardless of how it affects others, I possess a startling lack of manners, couth and plain common sense. Simply put, I have no shame. I'm the kind of person who gets my cousin pregnant and then has a baby shower!
No, that's just wrong. I wasn't raised in a barn, and even if I was, I'd try to keep that a secret. I understand I'm not at home, which is why I also don't clip my nails, pick my teeth, or masturbate on the plane.
10) Are you the guy who doesn't understand the "fasten seatbelt" sign?
Can you just wait ten minutes until we've reached a comfortable cruising altitude before you have to jump outta your seat to grab the tuna sandwich you packed from the overhead bin?
Yes, that's me! Sometimes I really have to use the bathroom and I am oblivious to the fact that the airport has installed convenient restrooms to use before the flight.
No, I was taught at an early age how to sit still and not fidget. I understand that the little lighted symbol above my seat that resembles a seat belt actually is a seatbelt…fastened!!!
*Bonus: I mentioned that these complaints and atrocities were listed in no particular order, but I did save the worst two for the very end.
11) Are you a parent who doesn't know how to discipline your children?
Look, I love little kids, I really do. And I do understand that babies cry when they're hungry, thirsty, sick, tired, etc. Heck, I cry when I'm hungry! But what I have no patience for, is a toddler or older child who continually screams in public.
I was on a 15-hour flight from Melbourne to Los Angeles and there was a little bastard three rows behind me who screamed non-stop. There is no possible way to put into words how obscene and obnoxious this child was, but I will try. He would let out these screeching, ear-piercing screams–sounded like the kid from The Exorcist–and he'd scream every 25 seconds…non-stop! He was screaming from the moment we boarded the plane until we were disembarking in Los Angeles. Aside from a 15-minute nap, he never quit. Scream after scream and after scream after scream. 15 hours! His incompetent parents made zero efforts to quiet their kid, even though the child kept the entire cabin up, the whole flight.
Yes, that's me. I never learned how to be a decent parent. My child walks all over me and will probably end up in jail before he/she turns 18 because of my complete lack of discipline and guidance.
 No, I actually have somewhat of a backbone and will put the fear of God into my kid if he/she were to pull some shit like that on a plane.
12) Are you the guy who rushes to the front of the plane to exit before allowing the passengers in front of you to go?
The most self-centered of them all: the person who charges to the front of the plane like a bull in a china shop, knocking women and children out of the way, as he fights his way through the crowded aisle to be "first" off the plane.
Yes, that's me! I was probably an only child and never told "no" in my lifetime. Why should I have to wait my turn like everybody else and deplane in an orderly fashion? I'm also the guy on the road that, instead of getting in line with everyone else when attempting to merge into a single lane or get on a freeway entrance ramp, I accelerate on the shoulder and zoom past all those bozos "waiting their turn," to zip right up to the front to cut in at the last minute. I'm special!
 No. I possess at least one ounce of manners and common decency. The world doesn't revolve around me, and I think I've grasped the concept of how to exit a plane, bus or train from front to back.
Okay, now let's tally up your scores! Just count the number of times you answered YES and find out if you're a flying douche below, using the official Ramblin' Randy Douche-o-Meter Scale:
0 Yeses: I may not be the perfect person, but I am the perfect flyer. My logic and reasoning skills, along with my common sense and just plain respect and courtesy for others make me a joy to fly with. Everyone should hope for people like me on their next flight.
1-3 Yeses: I'm a pretty good flyer, who maybe just needs a few pointers in etiquette. I mean well, I just may not be that experienced when it comes to flying or attending fancy dinners.
4-5 Yeses: I need some help. I lack some everyday common sense and basic manners and have probably worn Crocs to church before. I'm either rude, self-centered, oblivious to my surroundings, or most-likely a combination of all three.
6-8 Yeses: I've definitely crossed the line into the flying-douchebag category. How have I even gotten through life up to this point? I shouldn't be flying at all, I have no business in the sky with normal people. I should return immediately to kindergarten to be re-taught some basic social skills.
9-12 Yeses: I am a classless hillbilly who should never fly again! I belong on one of those old buses, riding with chickens and goats. Actually, that bus is probably still too good for me. I should just stay home in the barn where I was raised, there's no need for me to even leave the farm.