I imagined this was what it would feel like for any 14-year-old meeting their favorite YouTube stars in person. Here I was, in a room, with with some of my absolute favorite travel idols and masters of the miles game for a full weekend of nothing but travel talk and point-hoarding strategies. I did my best to keep my cool, but I'm not gonna lie–when Stefan Krasowski came over to say hello, I nearly lost my sh*t. He's been to 189 of the 193 UN countries and a whole bunch of other "oh wow" destinations. For example, later this year he's taking a two-week voyage to the extremely hard-to-get to island of Tristan da Cunha–getting there via a two-week voyage abourd a mail-ship. He's more Anthony Bourdain than Anthony Bourdain–everything I aspire to be as a traveler and he's right in front of me. I'm not worthy!
The Chicago Seminars consist of two and half days of panels and breakout sessions where the who's-who of air travel experts and points & miles gurus come together to divulge some of their best secrets and strategies. In a nutshell, these are folks who have mastered amassing an obscene amount of airline miles and points without actually flying. Of course they then use said points to fly–whether it's basic domestic trips to see family or extravagant/outrageous journeys to places like Madagascar or Bhutan–these pros have put their strategies in play to fly for free and share their tricks and tips all weekend.
I first started what the cool kids call "award stacking" about five years ago. The most common way to build up your mileage bank is by applying for credit cards that offer big mileage bonuses just for signing up. If you have good credit and can meet the minimum spending requirement of the card, you can rack up and east 40k, 50k, even 100k miles just for signing up for one card! Until recently, you were able to sign up for many of the exact same cards, get the mileage bonus, cancel, then sign up and do it all over again. I must have done this at least five of six times with the same American Airlines Advantage card–scoring literally hundreds of thousands of air miles–but alas, the banks have since figured out our little game and have imposed some pretty strict rules about how often you can and cannot sign up for certain cards. This increased scrutiny by banks on credit card sign-ups and bonuses make a conference like this even more invaluable.
Sadly I missed the opening sessions on Friday evening, landing at 7:40PM and making it over to Elk Grove by 8:30; but I was up and at 'em Saturday morning to dive right in. The only challenge was deciding which sessions to choose.
*** RELATED STORY: "BUMRUSHED, BAMBOOZLED AND BRIBED IN BURUNDI – ESCAPING THE ROGUE NATION ***
My first discussion was headed by "Greg the Frequent Miler," who told his fascinating story (along with slides and video) of how he made it to Necker Island and got to hang out with lemurs and Richard Branson! The trip sounded and looked just absolutely astounding, and out of reach for many. The cash price for a week's stay on the island: $30,000. Greg did it all with miles. Genius. You can see some of his story here.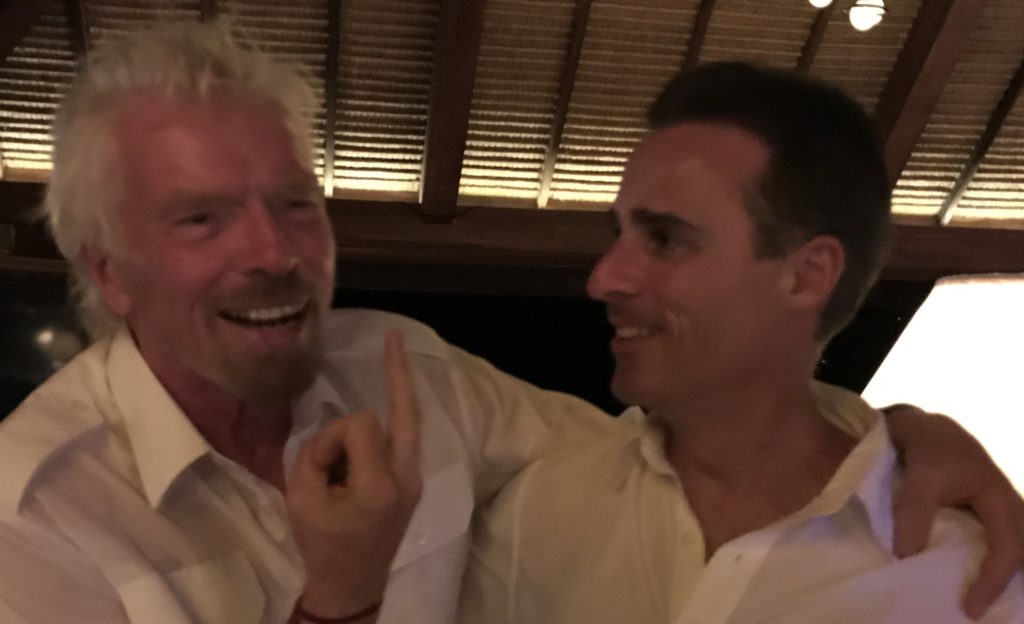 Next I watched Stefan host a session called Advanced Credit Cards, all about maximizing results with credit cards and their benefits–which has become more challenging since the banks have caught on to "us!" Stefan is a pro and I was glued to every word, taking copious notes like a high school honor roll student cramming for a test.
Next up, it was Richard Kerr and his Unique Award Redemptions discussion, where he dove in to some pretty fancy routings of some of the lesser-studied miles-transfer partners and even some of the most well-known programs many over look. The veteran naval officer dished out some great tips while flinging luggage tags across the room at people for right answers and class participation.
Lunch was served, then it was back in my seat to hear more great panels like Scott Grimmer's Sweet Spot Redemptions talk, where he helped attendees learn how to make best use of their miles.
Then Stefan was back with one of the coolest presentations of the weekend: 101 Tips/Tricks/Hacks, which was just as humorous as it was useful.
The sessions I mentioned above were only the ones I attended–at any given time there were three to choose from, and picking the one I wanted to see was like choosing which children to rescue from a sinking boat–a real dilemma! Other presentations included topics like booking your first award, Airbnb tricks and hacks, and manufactured spending. There was so much more. I was super bummed I missed a couple of these.

As 4PM rolled around, I chose Greg's Ask Me Anything session before heading out to enjoy my only night in the city.
I'd booked a room the night before in Elk Grove, a mile away from the conference; but tonight I had a hotel in the city so I could enjoy the evening downtown. I grabbed the conference hotel's shuttle to O'Hare, where from there I hopped on the Blue Line (train) and rolled into the city to explore. I took an awesome architectural boat tour where not only did we see and learn about so many of the amazing structures up and down the Chicago River, but learned a great deal about the history of Chicago itself. The cruise lasted 75 minutes and I highly recommend. The weather was just perfect and our guide was outstanding.
After the tour it was an Uber ride over to Pequod's Pizza for some traditional (and heavenly) Chicago deep-dish, then back into town to meet friends for drinks at Mother Hubbard's. I was finally in bed, and exhausted, a little after 1AM. I'd need to be up by 7 to head back to Elk Grove. I didn't want to miss a thing.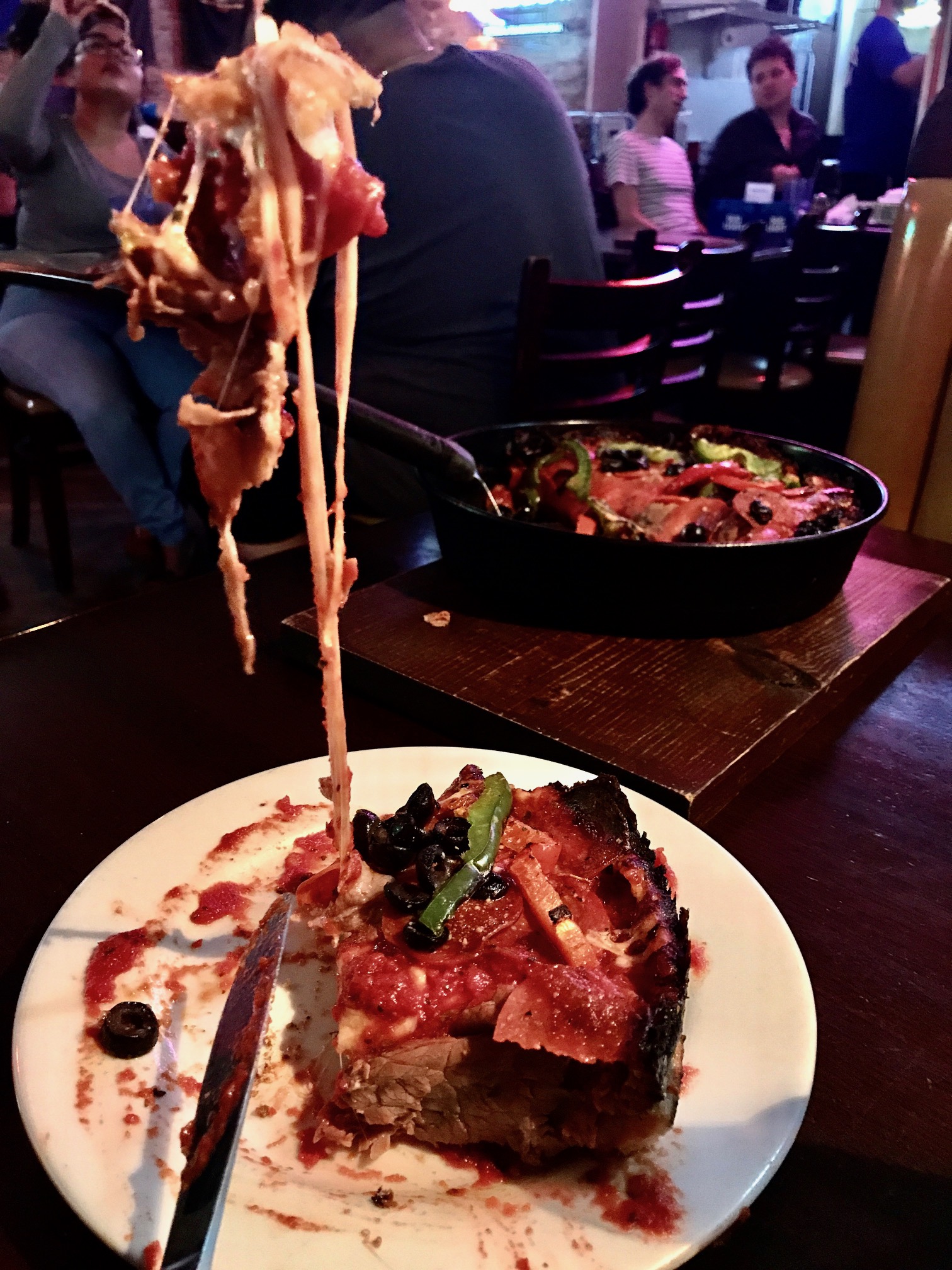 Sunday at the seminar was equally as awesome, but different, in the sense that the formal sessions segues into more casual round tables, where fellow travel enthusiasts sat around the experts in a half-circle and grilled them for specific advice and tips. We picked the brain of Tiffany Funk from One Mile at a Time at an SPG session, while others were in different rooms to discuss Marriott Rewards, Hyatt, and so on. There were airline "breakouts" as well, for all the major American carriers. I chose the "International" group and listened on while Stefan schooled travelers with visions of Australia and Argentina in their eyes.
There was also a very robust charity raffle that day, with scores of prizes ranging from T-shirts and business class amenity kits, to hotel stays and airline gift cards. Though I didn't win anything at the drawing, I perhaps did land the biggest prize possible when Stefan asked me to join the panel for the last presentation. How could I say no, but good Lord, what could I possibly add to a final discussion that included all of this weekend's travel experts? I was certainly nervous I wouldn't have anything to contribute–after all, I'm here as a student–but Stefan made it easy when he asked about my trip to North Korea and my colorful "United Nations Jacket," with patches from 90+ countries occupying almost every inch of real estate.
After that final wrap-up, a sea of suitcases filled the lobby, as conference goers smooshed into the hotel shuttles to hit the airport and catch their flights home.
*** RELATED STORY: "DON'T TELL MOM" – TWO NIGHTS IN NORTH KOREA AND WHY IT WAS ONE OF MY BEST TRIPS EVER ***
Besides the fantastic and über-informative panels–and of course meeting some of my travel idols–my other favorite part of this weekend was hanging out with the hundreds of other people like me. I'm a travel nerd: the guy at work with a huge, 20-foot map completely wallpapered over one of my walls. I'm the guy that will ask visitors to find Suriname on the map for a lollipop and have probably set more "out of office" notifications on my work email than every employee in my department combined. So while my immediate friends and family are probably bored to death of my travel stories and future trip aspirations, here is a group of hundreds all hungry to hear, talk about, and most importantly, do more.  The $105 registration fee more than paid for itself after only about twelve minutes at the conference, and the new friends in my contact list after this weekend are truly priceless.
You can learn more about the Chicago Seminars here.