Life's a Beach!
I visited the incredible island nation of São Tomé e Principe in January 2021. It was the last of nine countries on an insane mid-pandemic end-of-year West African adventure that I was foolish enough to embark on. I almost didn't even make it to São Tomé – numerous times! So once I'd actually finally arrived on the ground, I couldn't wait to get behind the wheel of my rental and see those beautiful beaches I've been dreaming about. I had no list – I just hit the road in trunks and pulled over wherever I saw a patch of sand and some nice water. Here we go, let's dive in!
>>> RELATED: See my full São Tomé e Principe report HERE.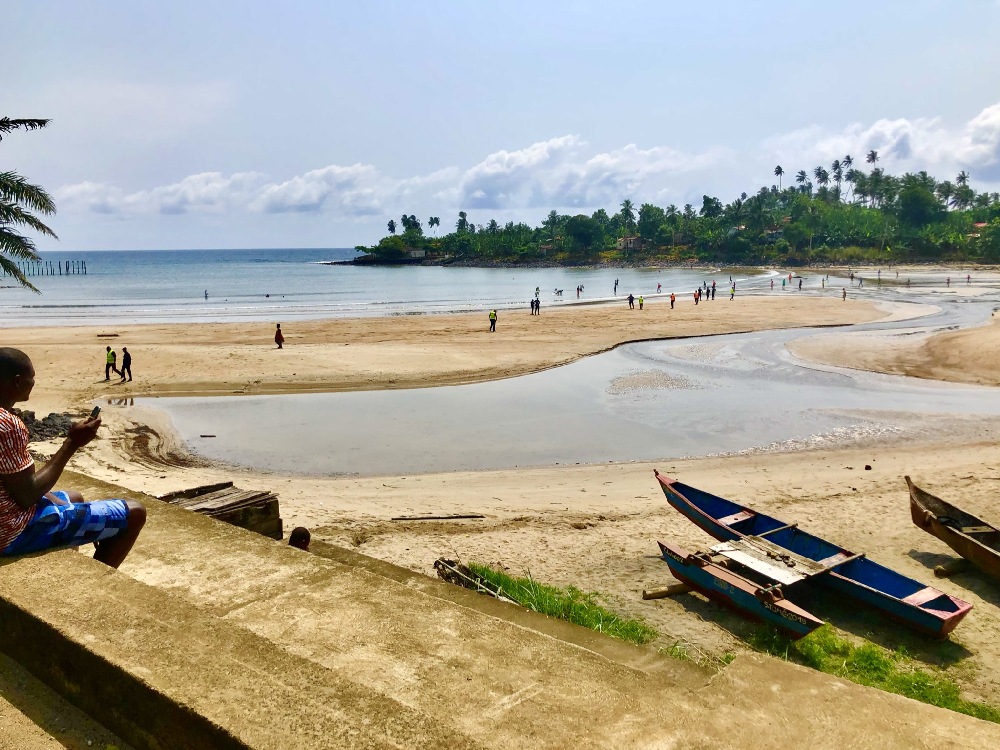 #1 Praia Izé
I headed south on day one and came to a really nice beach called Praia Izé first. This was a really nice bay with smooth sand and calm waters. It was very clean and not too crowded – with just enough people to give the beach a lively feel. While I was there, youths played soccer and kids frolicked in the water. Water quality was good – semi clear. Not sure why, but a group of police officers were on the beach when I arrived.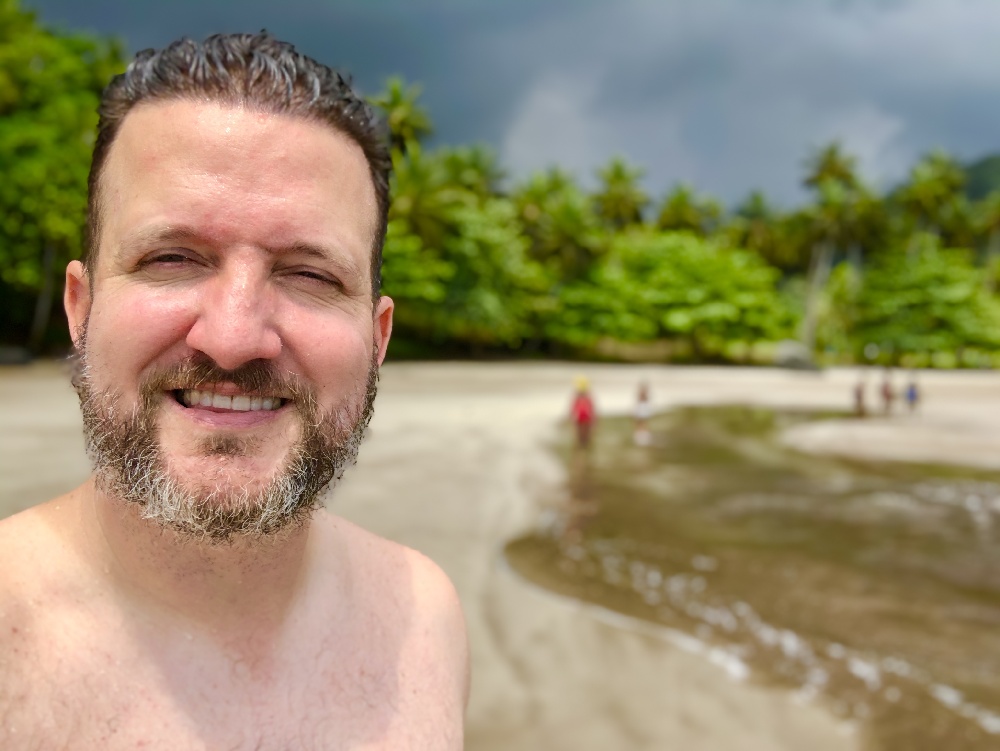 #2 Praia Sete Ondas
Spoiler alert: Sete Ondas (Seven Waves) was my favorite beach of the four. Rivaling the beaches of Brasil or Hawaii, this wide open cove featured a giant, smooth area of sand the size of multiple football fields. One of the neatest features is a little lagoon or inlet carved into the beach that gives bathers their own little swimming pool. But my favorite part of Sete Ondas was the waves. A Boogie boarders paradise, the location–at least when I visited–boasted the perfect size waves, rolling in at very user-friendly increments. Experienced Boogie boarders know that waves that are too big and too frequent make it a challenge to even "get out" far enough on the water to enjoy them. Sete Ondas' waves were just big enough to get in and catch a good ride to shore. Of course I say this without having actually boarded here – next time I return I will be more prepared! Surf always varies, so your mileage may, too.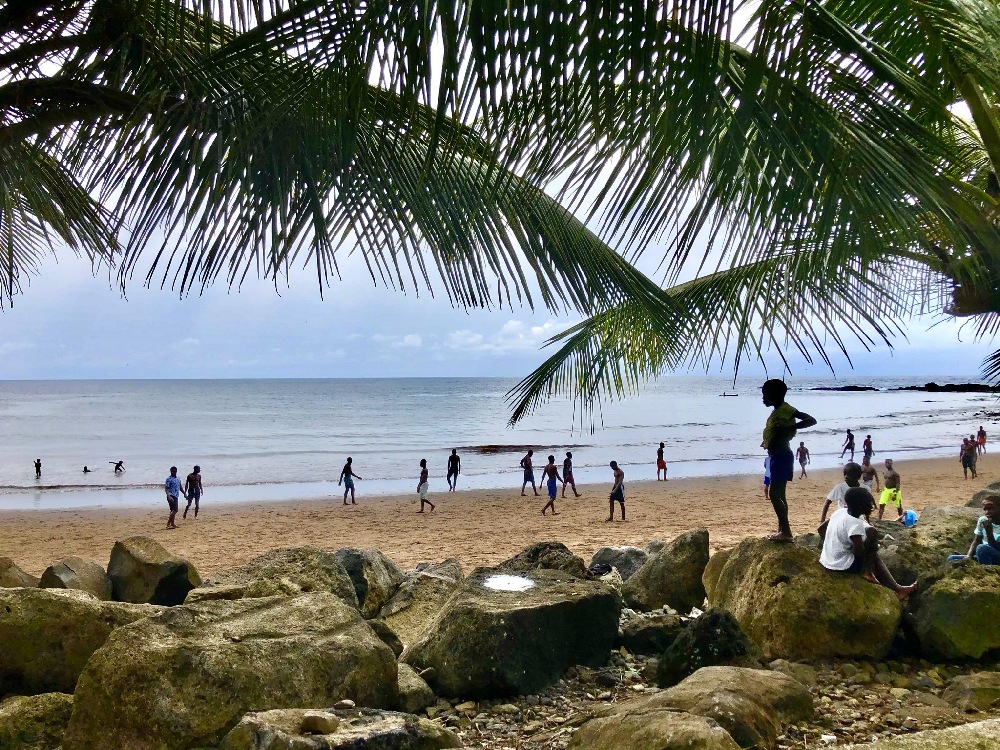 #3 Ribeira Afonso
Praia Ribeira Afonso is actually connected to the village of Ribeira Afonso, and therefore filled with locals, bathing in the water and playing soccer on the sand. Because of the number of its beachgoers and proximity of an entire village, expect a little more trash around the beach along with plenty of pigs and goats running about. I didn't swim here, but I did drive in and take a little walk around. Everyone was really friendly, even inviting me to join in on their soccer game.
RAMBLIN' TIP: Don't be alarmed by the stares from locals here–or anywhere else on the island–they are only curious! You can almost always disarm anyone here in São Tomé with a smile and a Bom dia! or Boa tarde! The people here are awesome.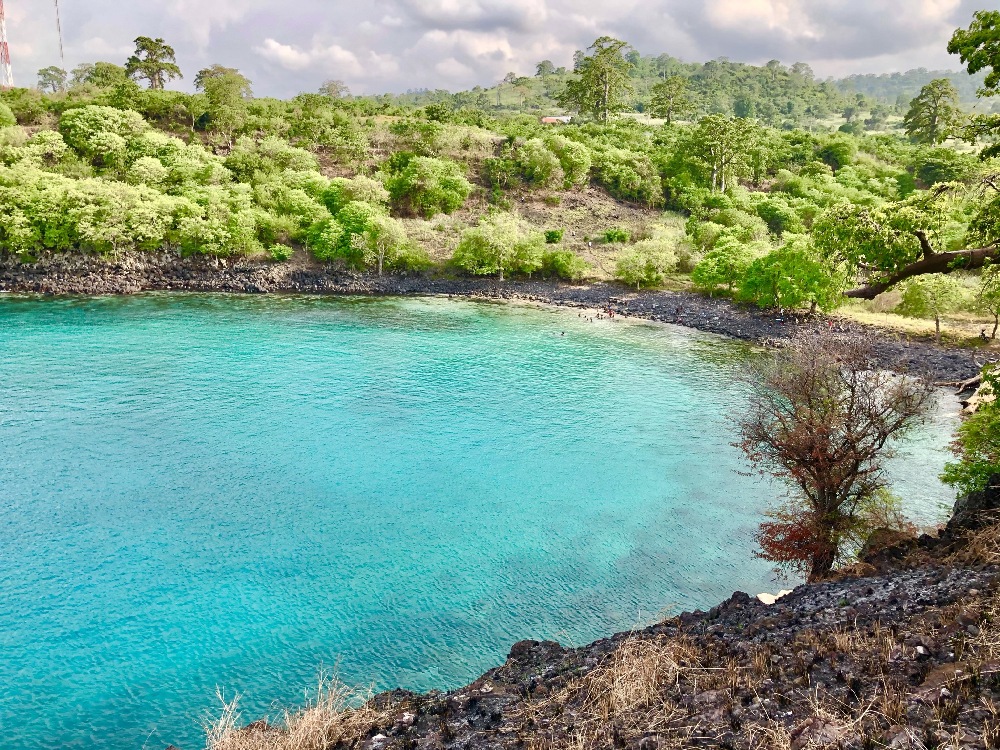 #4 Lagoa Azul
Ahhh, the Blue Lagoon! This one is probably the most-visited beach by tourists, and it's no wonder! Its clear waters and beautiful scenery make it a must-stop for visitors of São Tomé. The water is the clearest of all of the beaches I'd visited. There was a souvenir stand set up when I arrived and friendly kids in the water who greeted me with the common, Oi Branco! (Hey White man!) salutation. The area was clean and the water felt amazing. There's a giant Baobab tree that's fallen over into the water. Hike up the hill to see the nearby lighthouse and enjoy panoramic view of the lagoon and its surroundings.
The Video!
Enjoy this short video of my visit to these four awesome beaches. Did I miss one of your favorites? Please add them in the comments below.
Related Ramblings
Please see my FULL SÃO TOMÉ E PRINCIPE REPORT HERE, including expanded notes on the beaches, o centro (downtown) and even a harrowing trip through water-filled concrete tunnels with spiders and bats!