Red Rover Red Rover, Can Randy Come Over?
Usually the tickle in my tummy on the airplane comes from turbulence and/or a slight fear of flying (who would've imagined, right?) But this nervous feeling was from something totally different. As we touched down in Vilnius, Lithuania, I was the fifth passenger off. The anxiety increased with every step further into the airport. I was praying there would be no uniformed officers checking passports in hopes to snag an American like me. It was October 1st, 2020, and most of the world was still in lockdown mode – Americans were at the top of the "unwanted" list. All it took was an official to ask to see my passport and I was done for. The most nerve-wracking part was not knowing what to expect. In a normal year, one can travel between EU nations with zero border control. But of course 2020 was anything but a normal year. Rules and regulations were changing by the minute, including many European Union nations who wrote up their own rules, re-secured their internal borders, and even banned entry of people from fellow EU nations. It was all extremely difficult to keep up with, and I'd already lost a small fortune on airline tickets due to some last minute pivots required to conform to the ever-changing rules. But here I was, on the ground in Vilnius, heading towards the airport exit – I was almost "in."
Moment of Truth
I passed through baggage claim and could tell I was probably just feet from the exit. I was feeling positive. Passport control is always before you hit the luggage area, so I figured I was out of the woods. I was wrong. My heart stopped as I saw four uniformed officials checking documents of the passengers in front of me. Crap! I had my story ready and backup flights if I was turned away. It was midnight and I wondered what would happen if they didn't let me in: Would they let me at least stay in a hotel near the airport for the night…or would I end up sleeping on the floor inside the airport – or worse, sleeping in a cell? I already had my backup plan in place: I could be in Zanzibar by Saturday if they didn't let me in.
I brought up the QR code I'd downloaded to my phone before I left: I'd filled out the mandatory national travel/entry form online which recorded my data and issued me the code. As I walked towards the officers, I held up my phone to show them. They said, "Okay thank you," as I passed without having to stop. 15 seconds later I walked out of the airport doors and out onto the curb where I let out the biggest sigh of relief. It was nothing short of a miracle – Americans were not allowed in Lithuania. I was now officially in country #150.
I grabbed a taxi to the hotel and I was out. I'd been up for two days – it was so nice to finally have a bed. I was up at 10:30am and out the door soon after to walk the old city.
I enjoyed Vilnius. My time here was uneventful, but very pleasant. I stopped for blueberry pancakes and coffee at Gusto Blyninė before beginning my walk down those cobblestone roads. The town was clean and relatively quiet – I don't remember hearing one car horn. The weather was crisp and the leaves were just beginning to drop. Fall was in the air.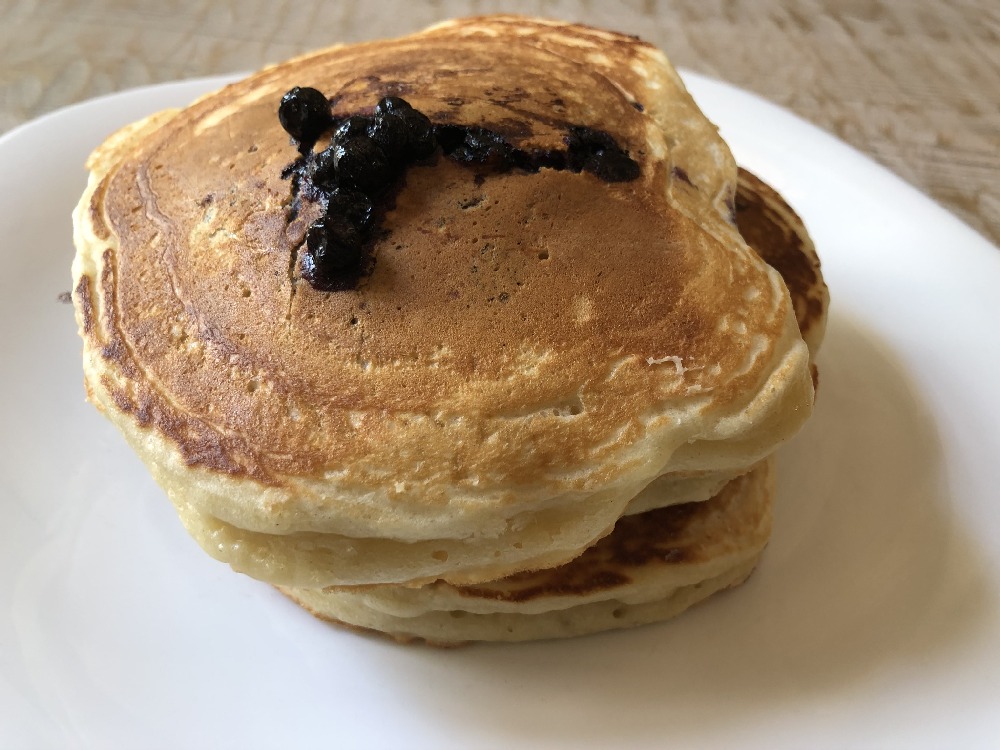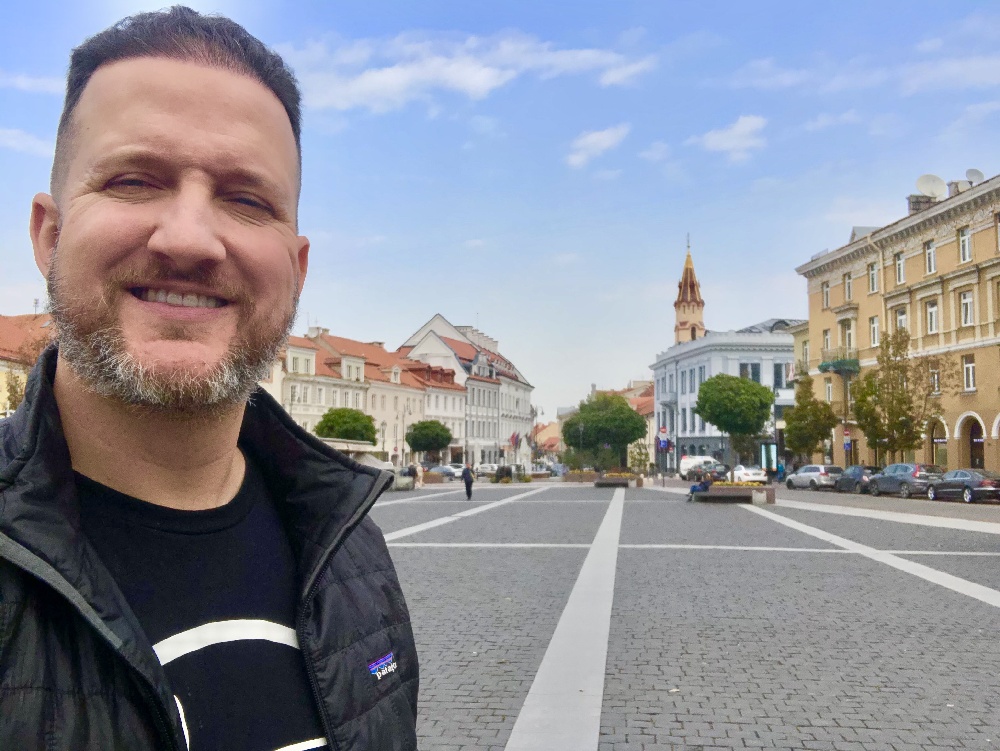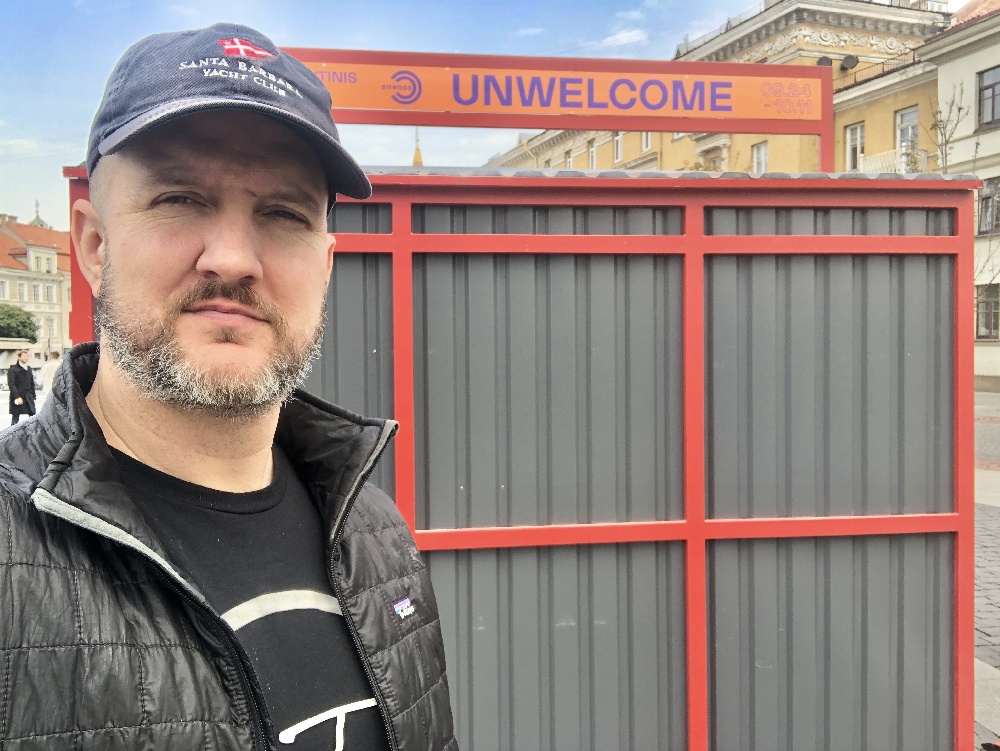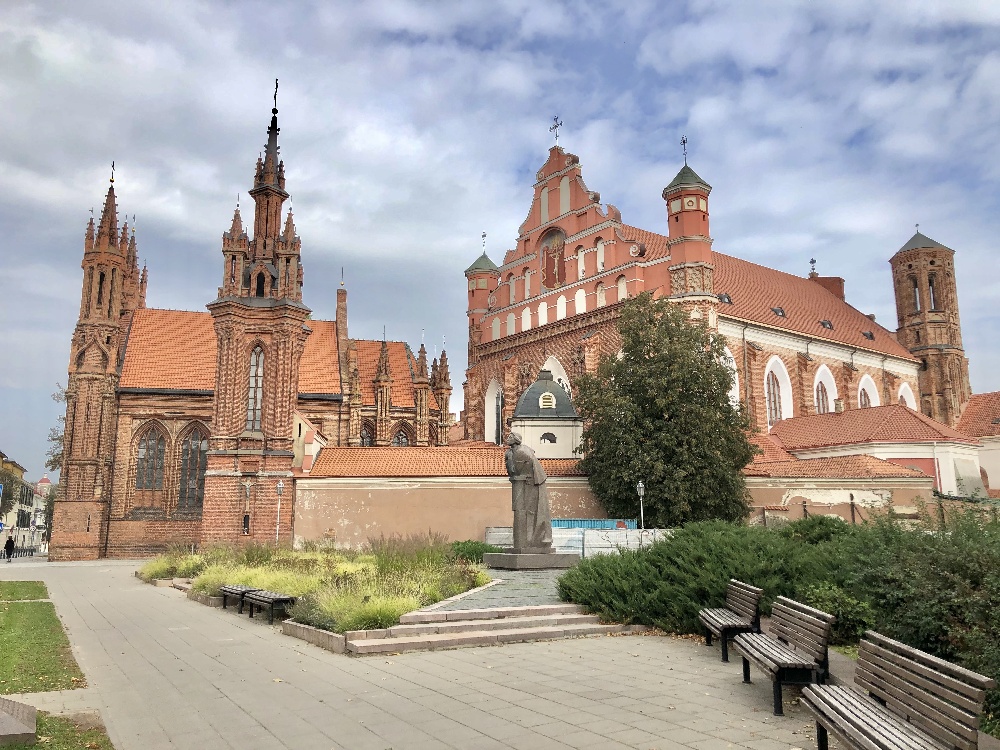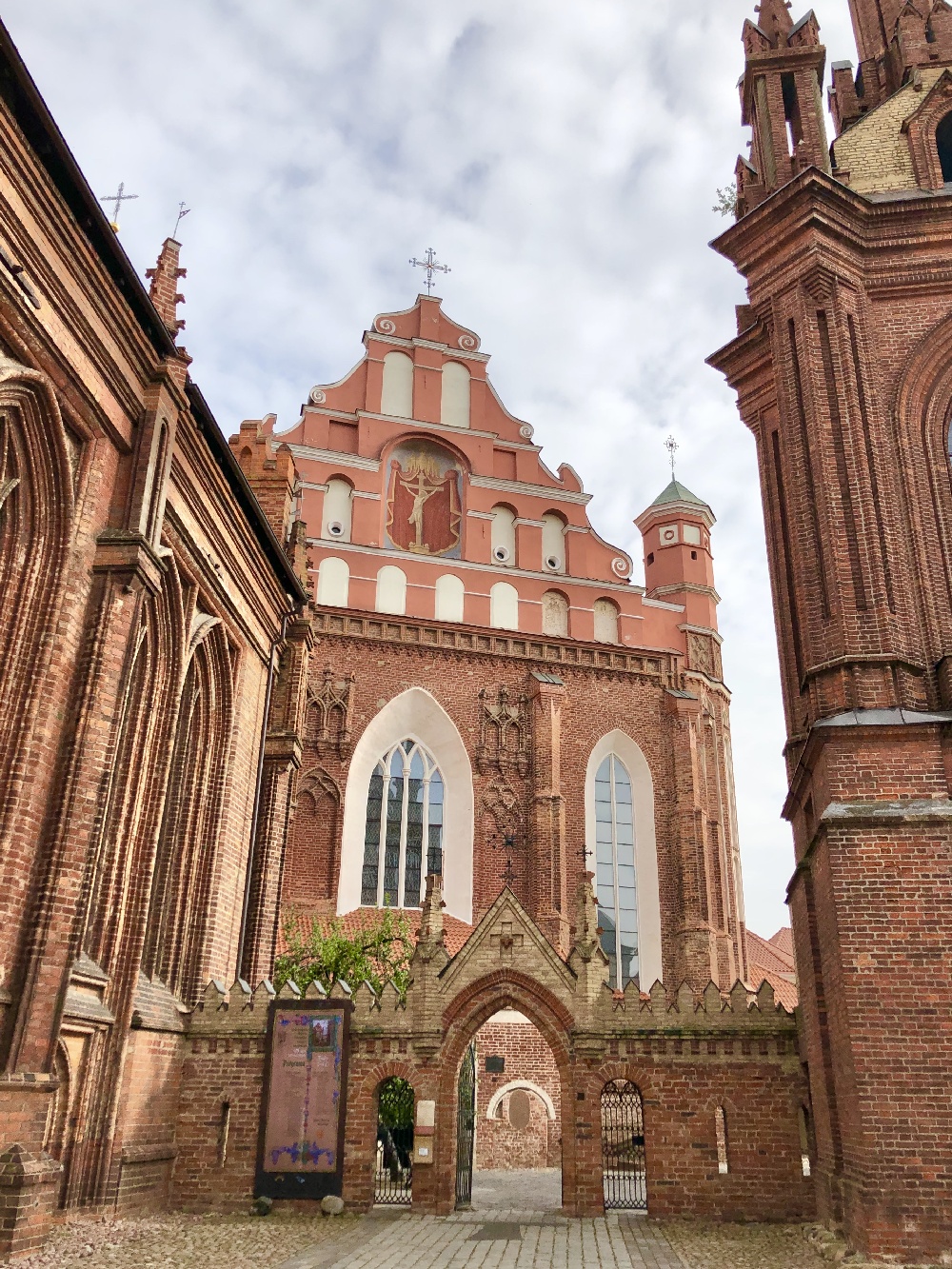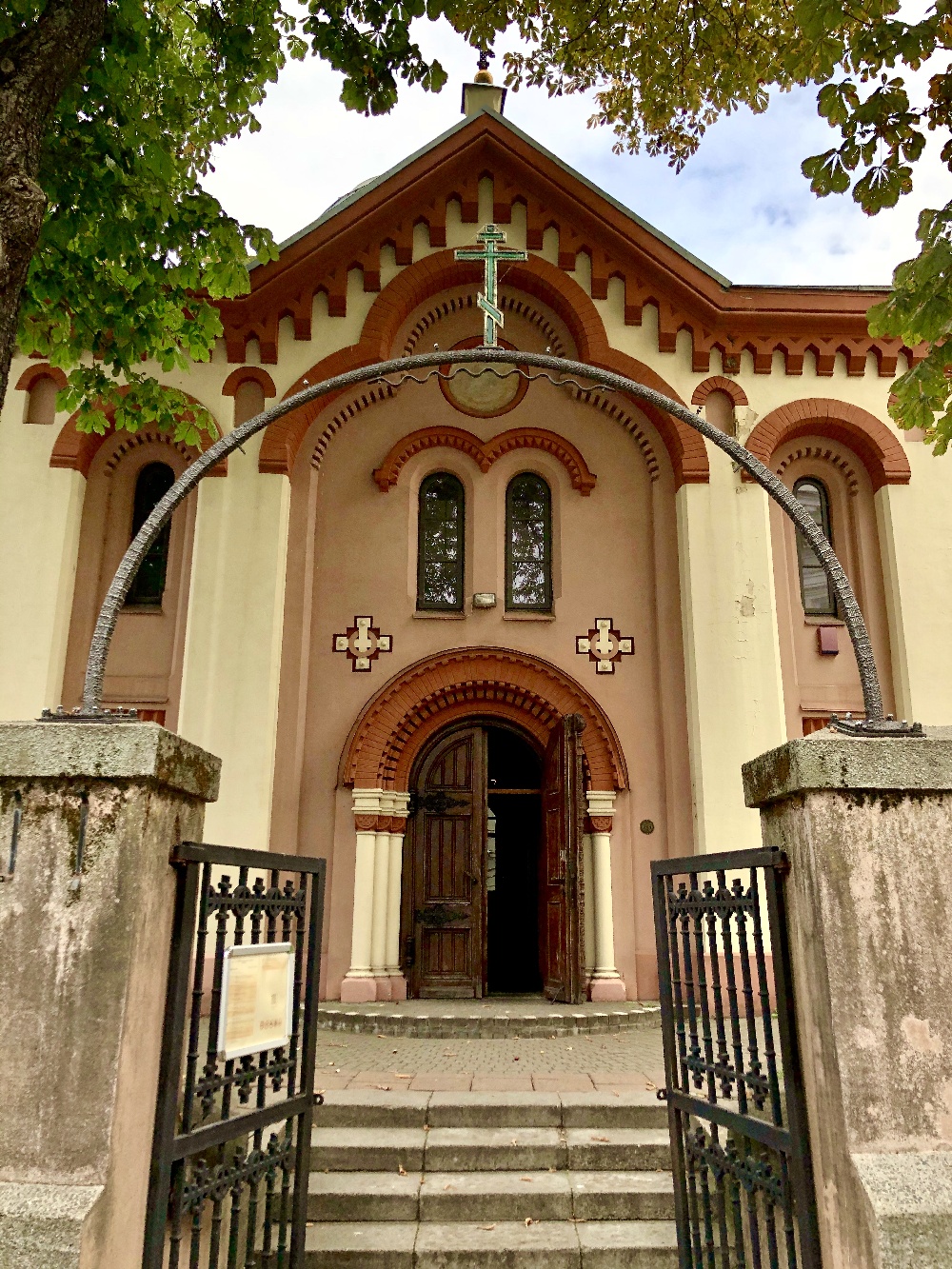 Doing Old Man Things
I enjoyed a peaceful stroll through Bernardine Gardens, watching ducks float down the river like an old man. My head was still spinning from all of the border drama and I did my best to slow it down.
After the gardens I enjoyed more exploring, checking out the various beautiful old buildings and churches before taking a climb up to the top of the Bell Tower at St. John's Church. A few hours later I found myself back in bed. I needed a nap.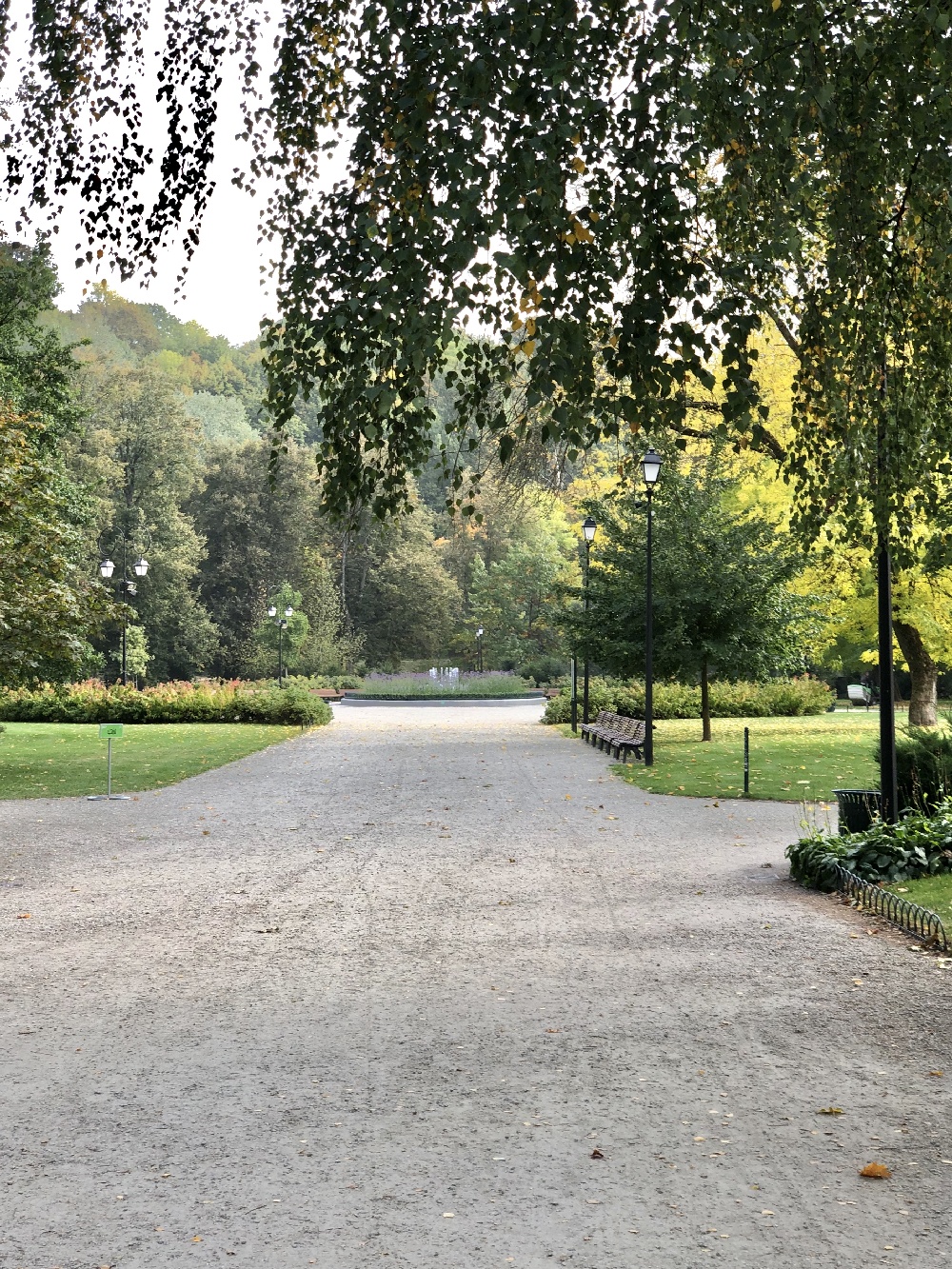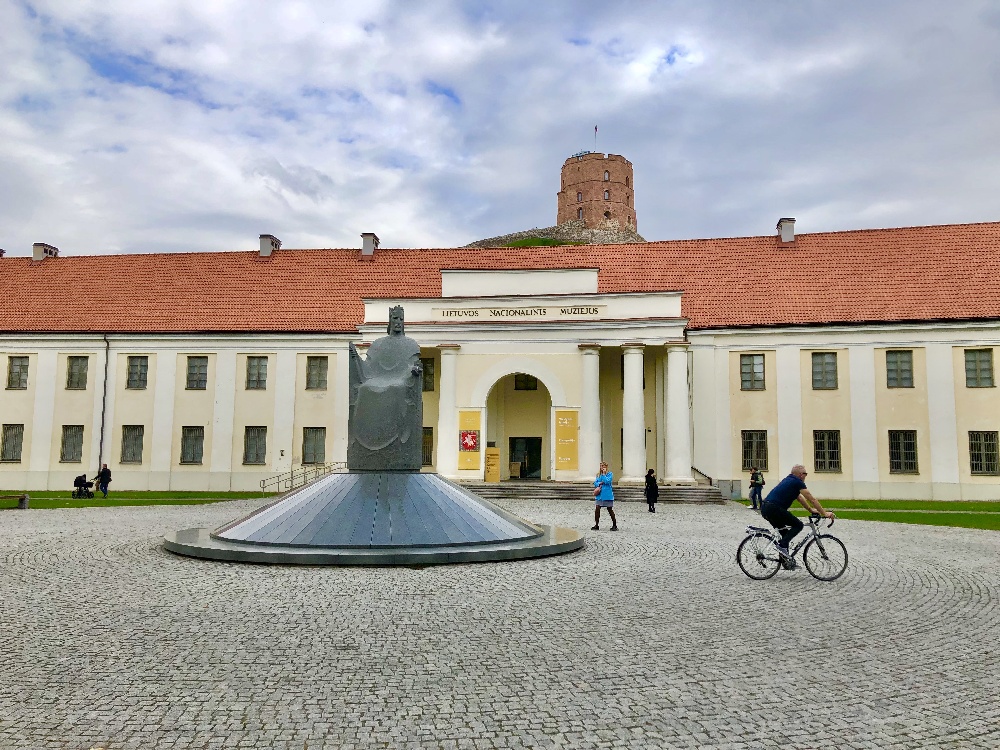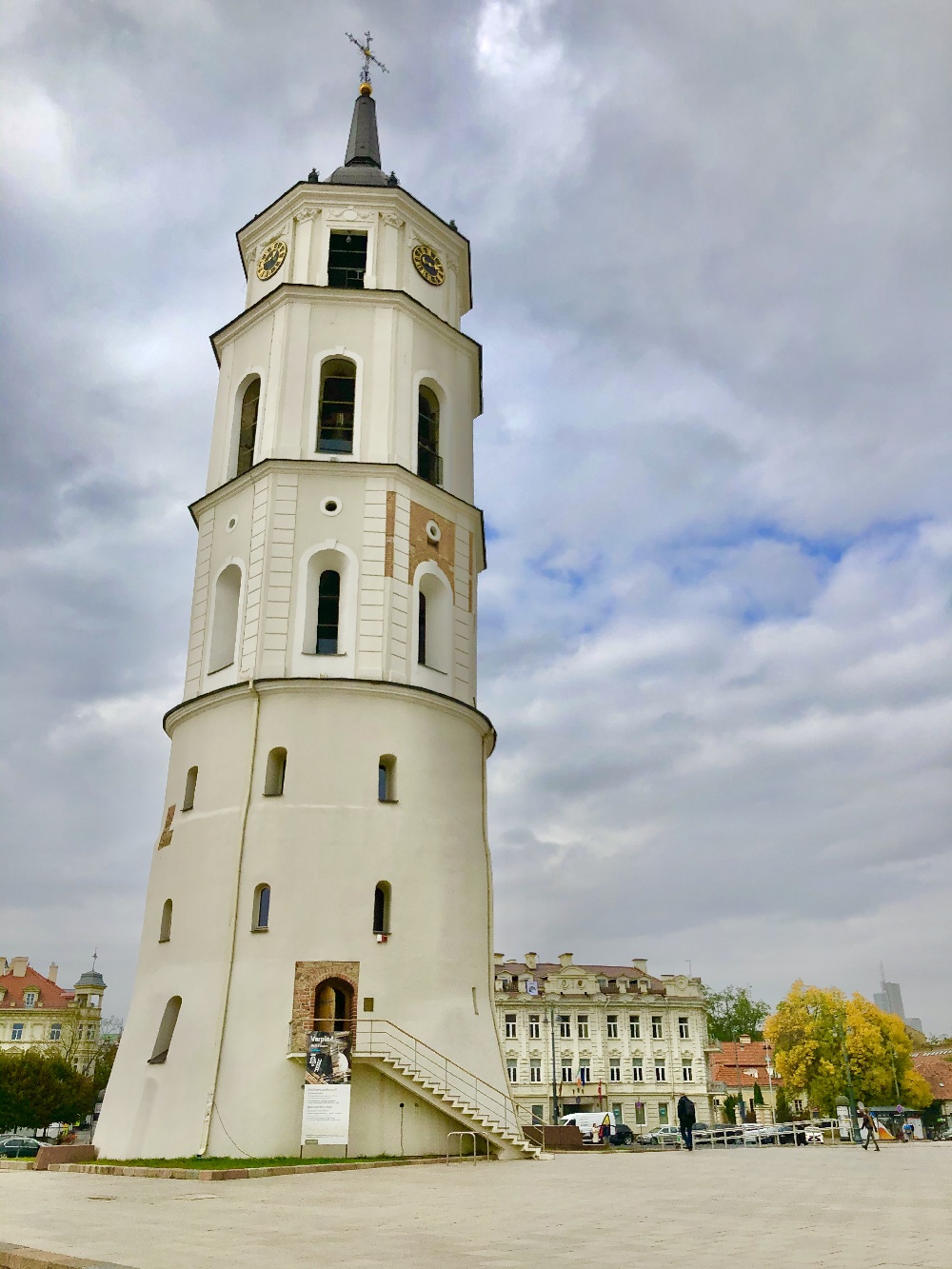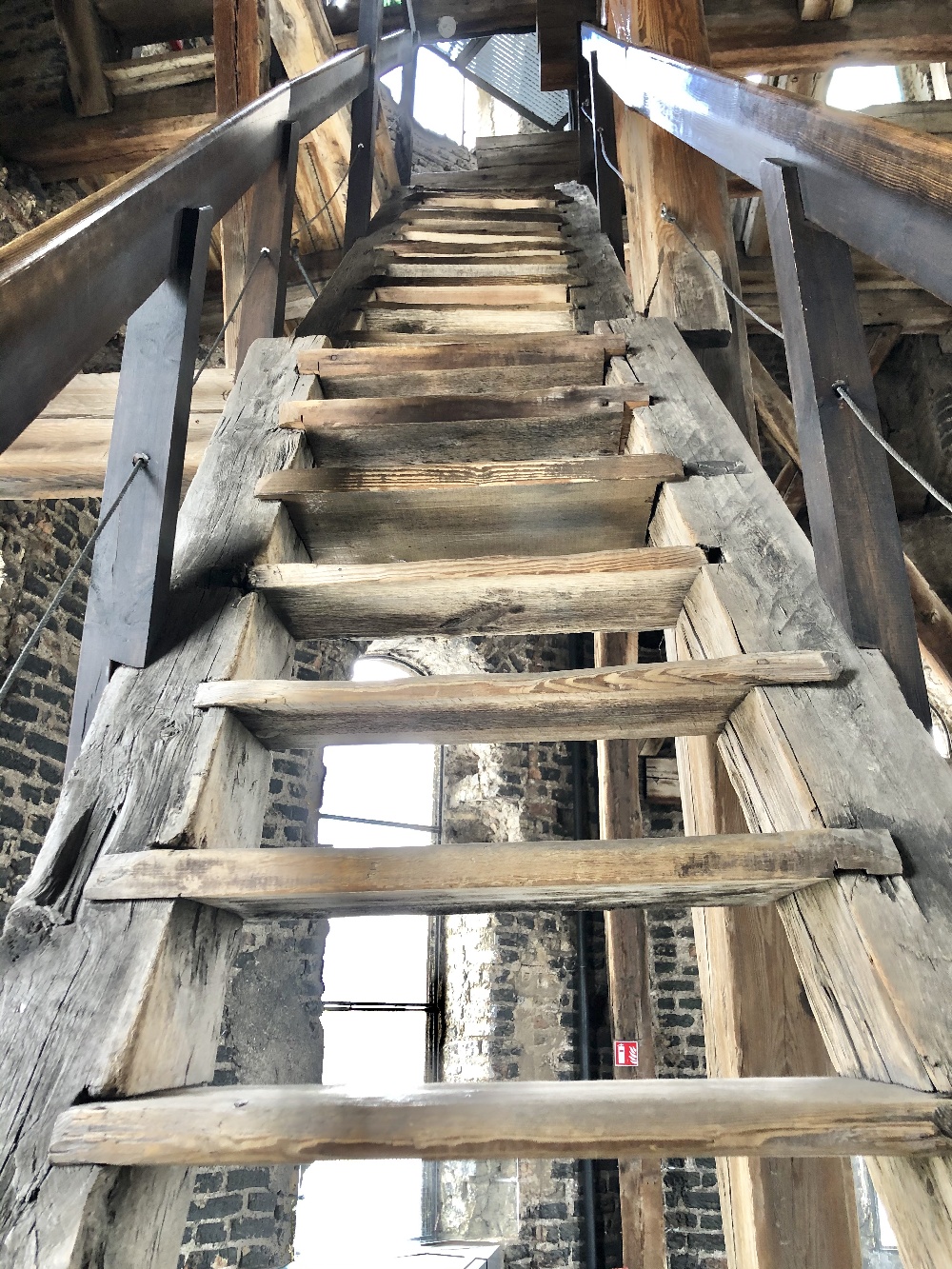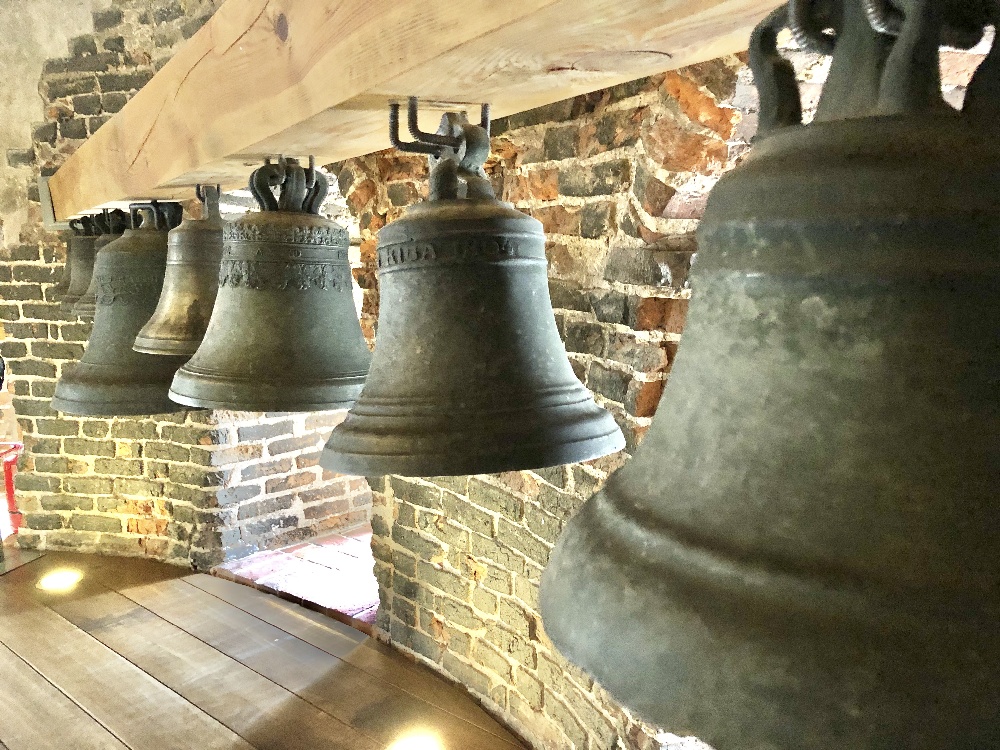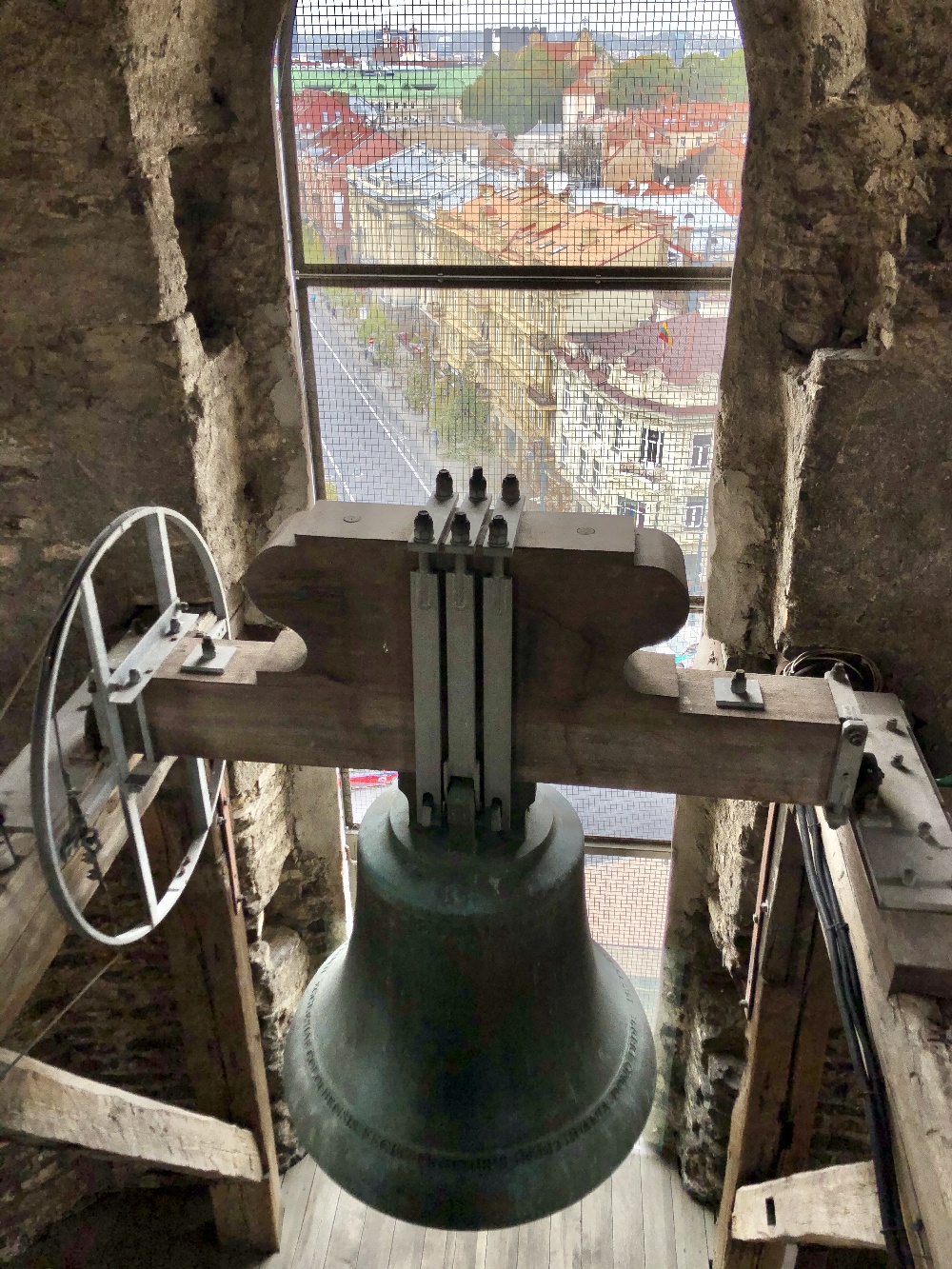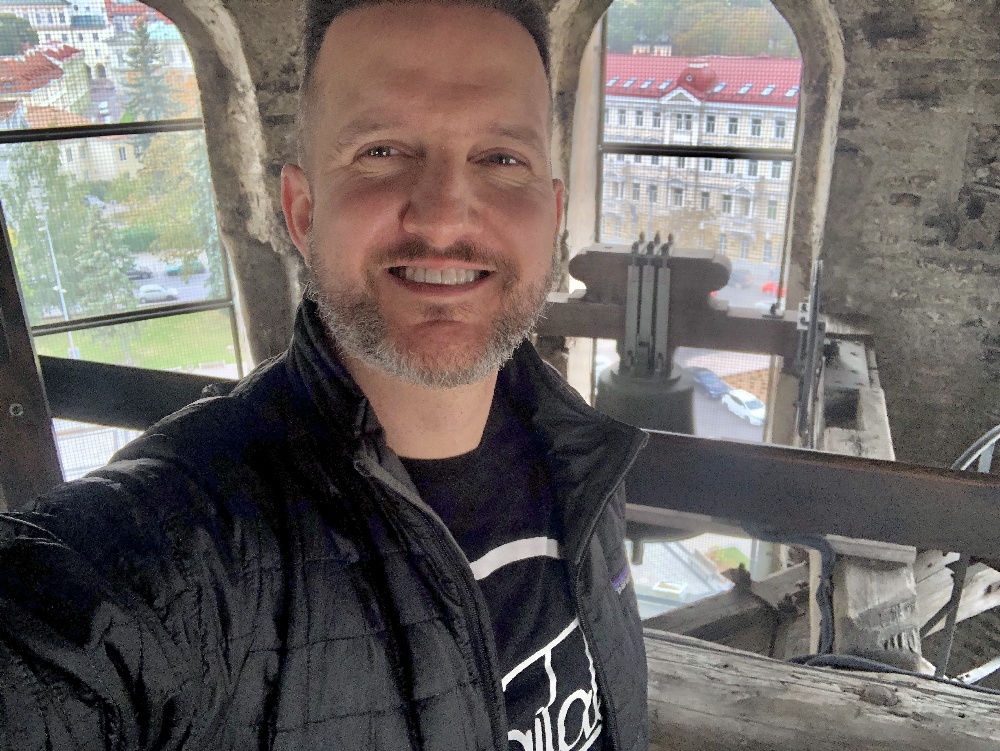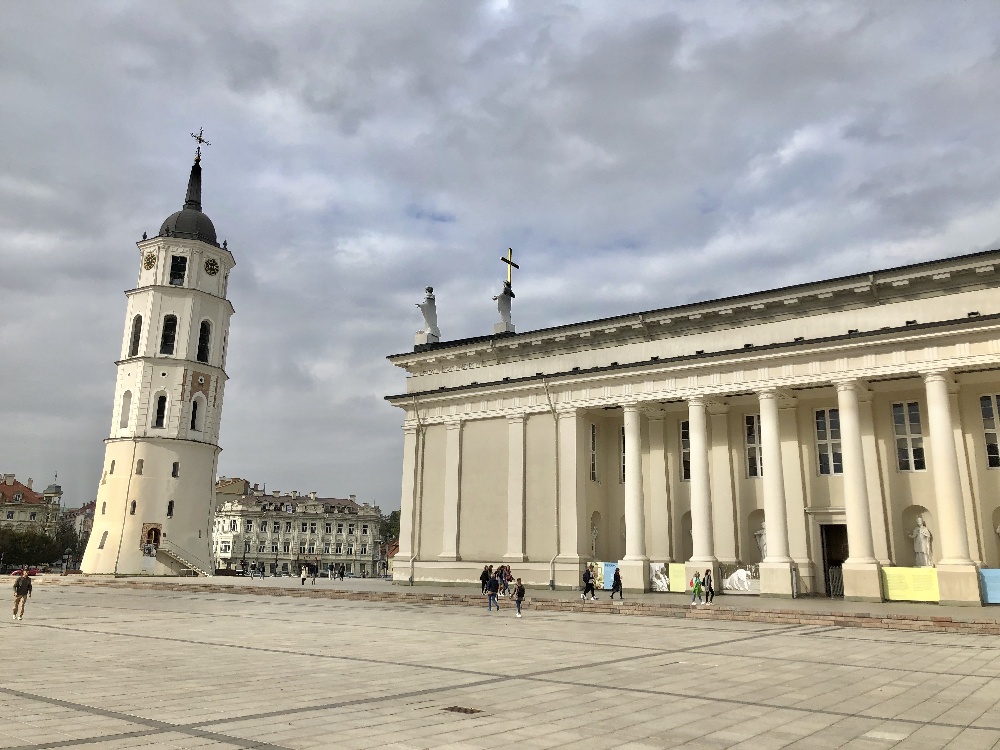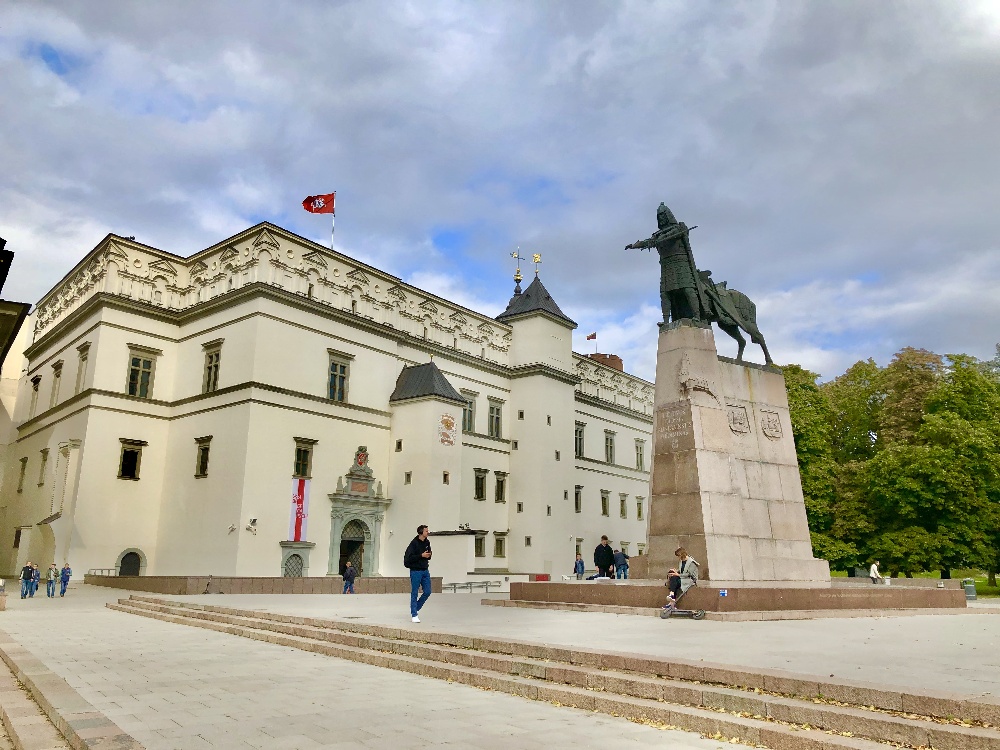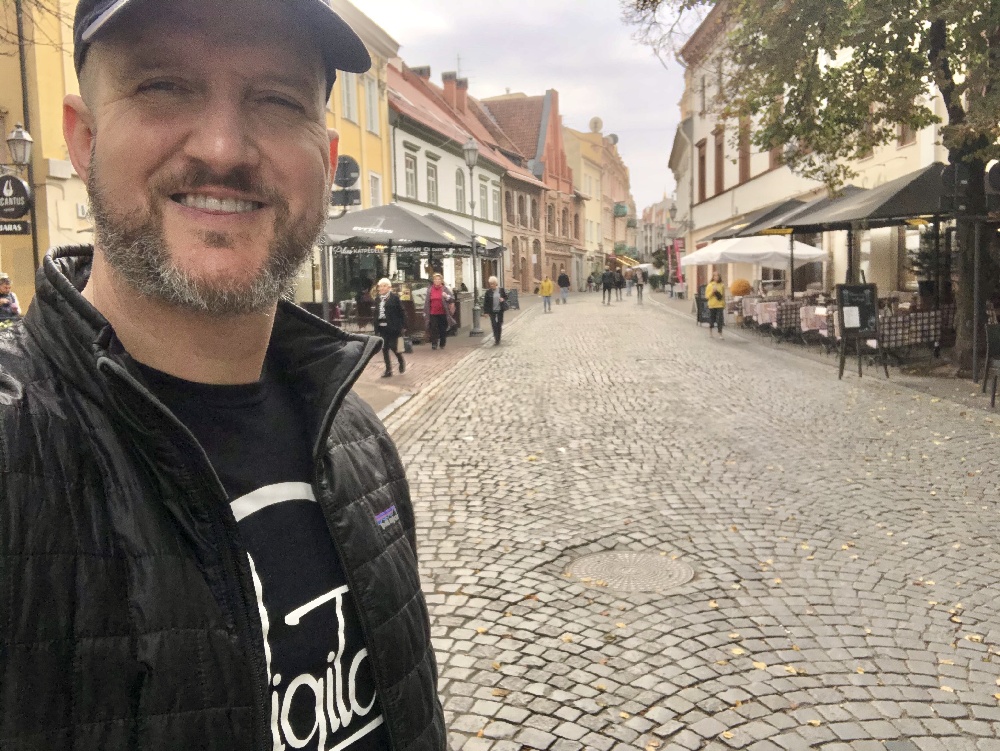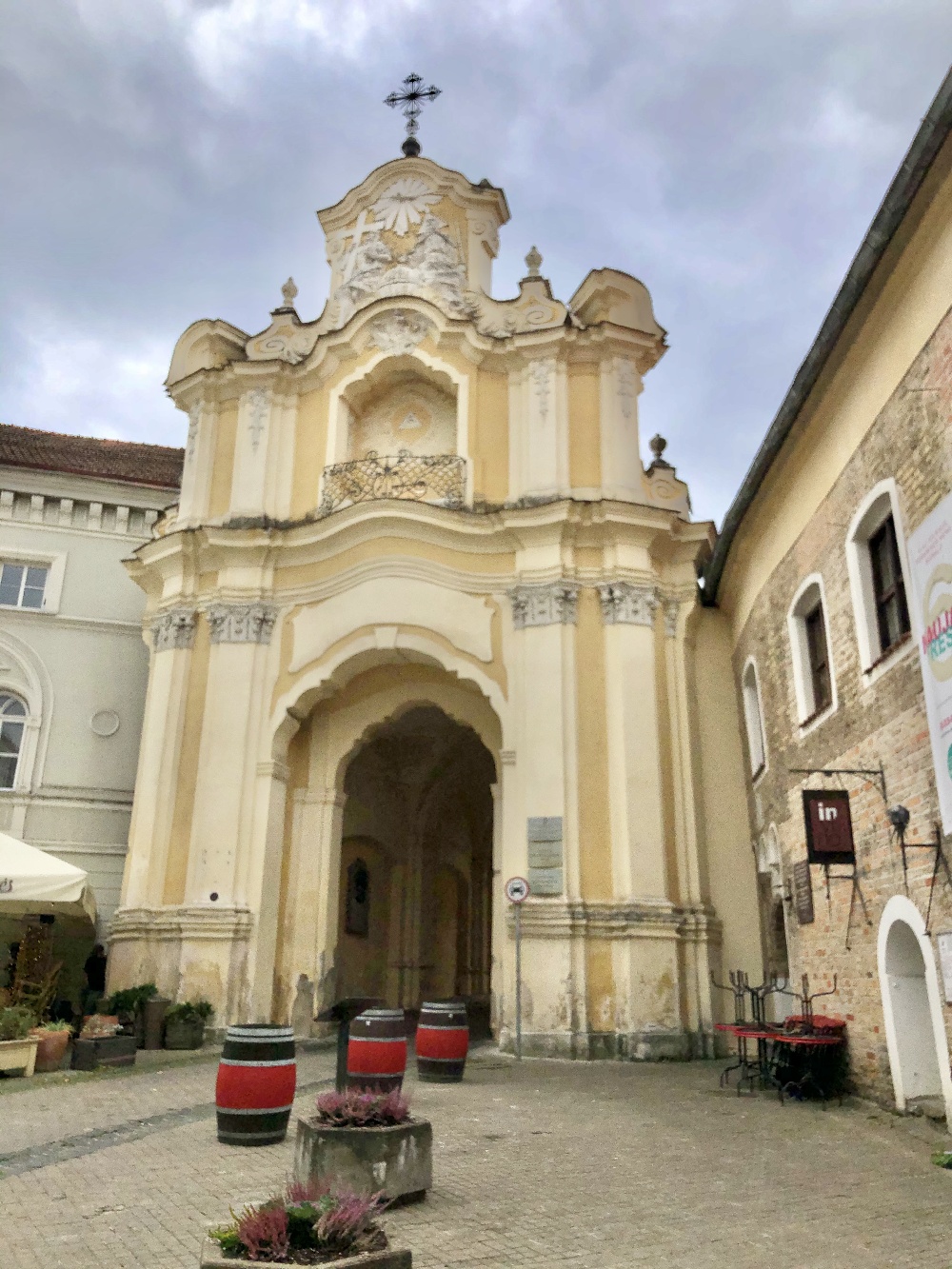 Foraging for Food
After a nice snooze at the hotel, it was time to venture out for dinner. I walked a couple of miles to and from my first pick, which had either closed down or moved. I wandered into a traditional Lithuanian restaurant but nothing on the menu excited me. I finally decided on The Georgian House. Although it wasn't the local fare, I sure did enjoy that khachapuri. After dinner, it was back to the hotel to get a few winks before my 4AM taxi.
RAMBLIN' TIP: I stayed at the Domus Maria which looked more like a fort than a hotel, with big giant walls surrounding the grounds. The location and price were great – I recommend. You can book the Domus Maria HERE.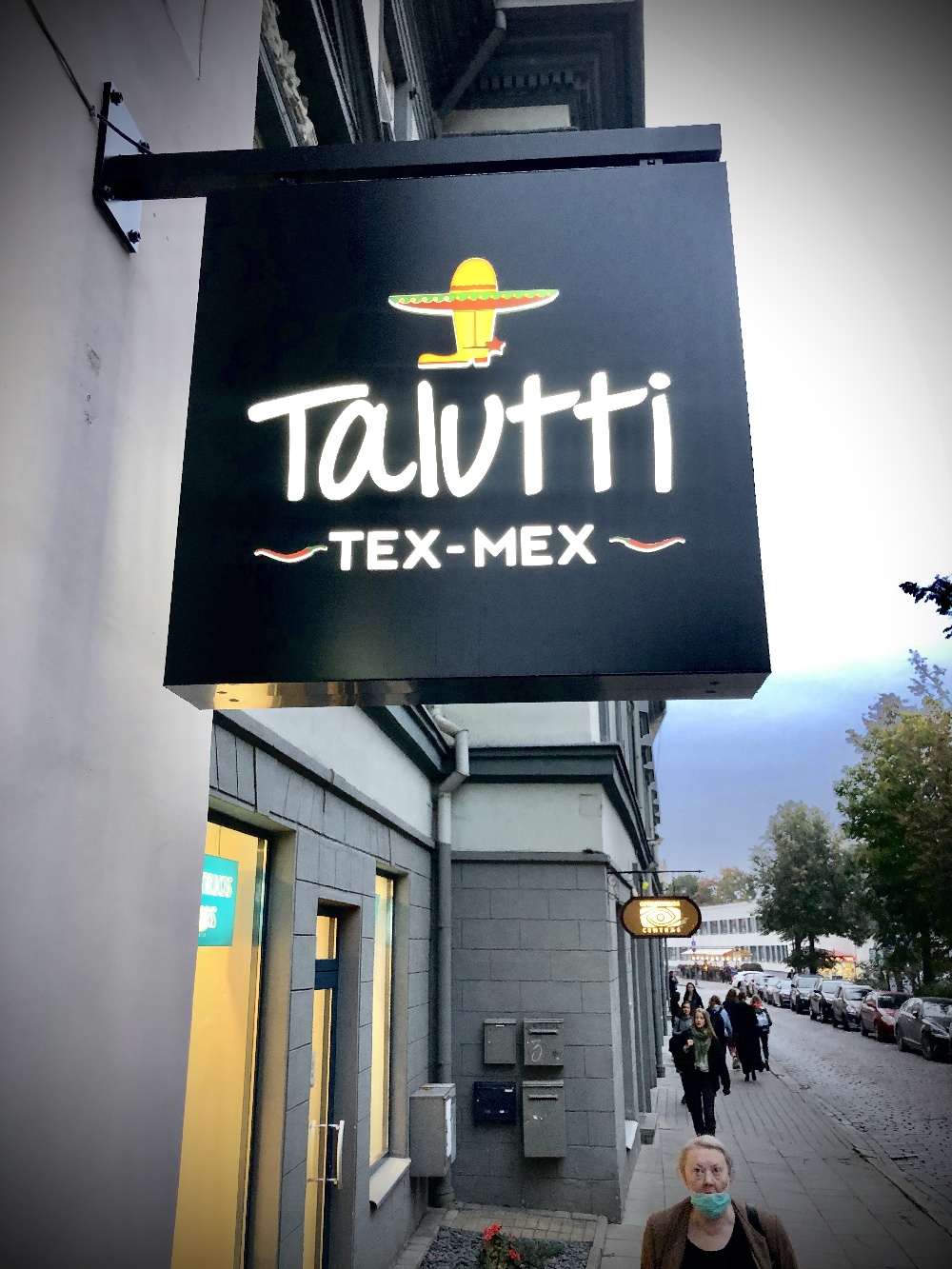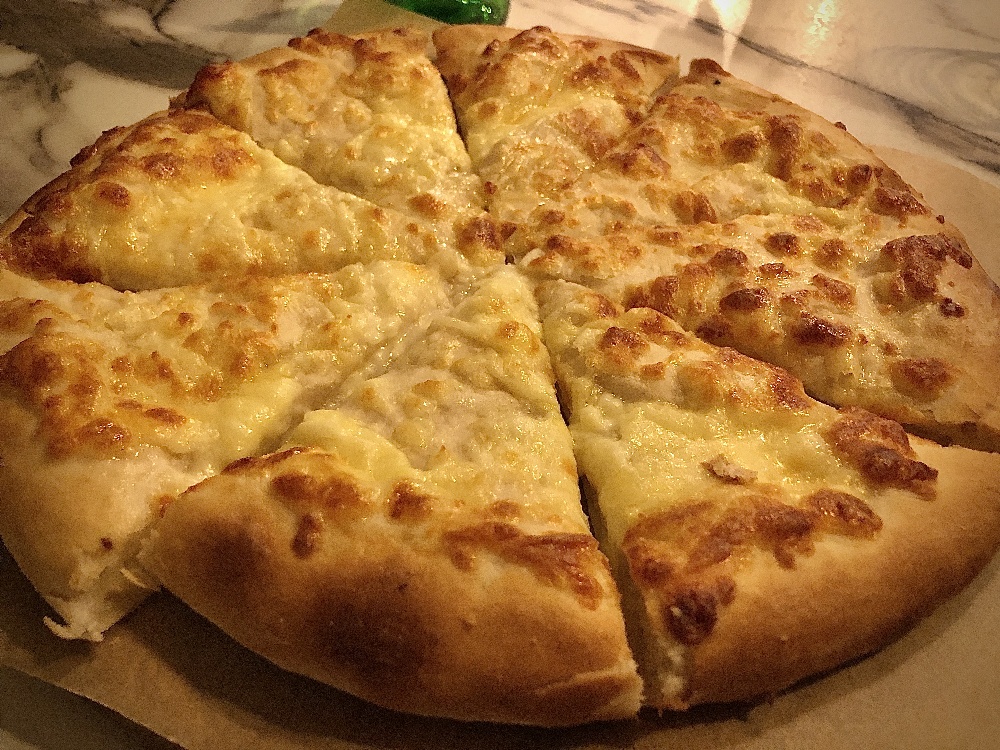 The Pleasure Was All Mine
Country #150 would've been a little unceremonious, if it wasn't for the fact that Americans weren't allowed in at the time – that made it special and definitely added some excitement to the whole thing. Vilnius was a great city: clean, classic and peaceful enough to give me the reset I needed before marching on with this major fall expedition. Latvia up next, kids!
This entry was posted in
Europe